Beers:
2172
Breweries:
553
Styles:
100
States:
51*
Latest beer added:
Mr. Pineapple
Brewed by:
SanTan Brewing Company
Check out the ONLY canned beer database on the web.
*That includes Washington,DC!
Sunday, May 29th 2016
Brewery Spotlight:
Q & A with Platform Beer Company
In less than two years, Cleveland's Platform Beer Company has gone from setting up shop in a former Czechoslovakian social hall to having a resounding impact on the Ohio craft beer scene. Brewing a few thousand barrels last year, the brewery is expecting to make the jump to over 20,000 this year thanks to an additional production space on the city's west side. Creativity and a desire to be open and collaborative have enabled Platform to partner with homebrewers as well as other craft brewers and offer a wide range of beers to thirsty Ohioans.
One part of the team behind Platform Beer Company is Justin Carson - also owner of JC Beertech. We swapped a few emails with Justin in an effort to learn more about Platform and what was behind the quickly growing craft brewery. He was nice enough to answer all the questions we threw at him, cheers Justin! We hope to make it out to Cleveland (or Columbus) and have a few beers at the brewery soon...
(CC) Tell us a little bit about Platform Beer Company?
(JC) We opened July 4th 2014. We wanted to create a Platform that did not exist in the brewing industry by connecting home brewers and retailers in the process of designing and creating beers. Justin Carson and Paul Benner are the partners.
(CC) What's the story behind the brewery name and logo? Who does most of the design work the brewery?
(JC) The logo came about to signify the art of collectively collaborating. This is why we decided to include the light bulb. We also wanted a very simple clean design. We have had multiple designers since opening. Currently we use Studio 5 Design.
(CC) Is it still relevant to ask the question, why cans?
(JC) We decided to do cans because of the quality aspect as well as we thought we could best show the art of design on cans.

Photo: DoublEE Beertography
(CC) Platform's Brewery Incubator program sounds very cool. What can you tell us about it?
(JC) The incubator project is a opportunity to give more advanced home brewers the opportunity to create and brew on a commercial system for release to their friends and family. This is also a way to incorporate groups we have done multiple collaborations with chefs, grocery stores and even crowd sourced.
(CC) Where are Platform's cans distributed?
(JC) We currently distribute in Cleveland and Columbus.

Orange Blossom Gose is a collaboration between
Platform Beer Company and Old City Soda
(CC) Looking at current draught list in your taproom there are some really unique beers. There's a Mango Pink Peppercorn Berlinerweisse and a beer brewed with Cherimoyo fruit and Pomelo. If you could describe Platform's brewing mantra, what would it be?
(JC) We strive to make a consistent quality product. We also have a 3, 10, 30, and soon 60 bbl BrewHouse so we can try exciting beers at the brewpub before they make it to the productions facility. We have also started a comprehensive souring program. We like to think all opinions matter and work together to create unique beers. (Hence the light bulb)

The Cherimoya Project is a series of pale ales brewed with cherimoya
fruit and other exotic fruits such as Bergamot oranges
(CC) What are some of the beers the brewery is most proud of?
(JC) Some of the beers we are most proud of in the first two years we have been open are Orange Blossom Gose, Cherimoya Project Pomello, Hubris Quad iced IPA, Speed Merchant, and our Black Eagle Gratzer that won a gold medal at GABF.

You guessed it...
(CC) I really have to ask about your Frank Stallone Pale Ale. Growing up watching SNL when Norm MacDonald was doing Weekend Update, that is just priceless. Whose idea was that?
(JC) Paul Benner (co-owner of Platform Beer Company) came up with the idea due to the appreciation of this skit. (watch it here)
(CC) What does the next year hold in store for Platform Beer Company?
(JC) We are opening our 3rd location in Columbus in the Fall. We have plans to continue to develop our distribution footprint and look for future opportunities.
Posted by Russ
Monday, May 23rd 2016
Fort George Team's Up With Barley Brown's and Melvin Brewing for 2016's 3-Way IPA Release
3-Way IPA Summer 2016
A Fort George, Barley Brown's, and Melvin Brewing Collaboration
Throwin' down the truth about 3-Way IPA 2016, straight from the OGs in charge – Chris Nemlowill at Fort George, Tyler Brown of Barley Brown's Beer, and Jeremy Tofte from Melvin Brewing (with translations for the non-brewers).
THE COLLABORATION
Chris Nemlowill: "Straight up, mad props for your hops. If your kettles had kicks, they'd dunk on Motumbo."
Jeremy Tofte: "Word. All your ickies are stickies and your drank is dank."
Tyler Brown: "My Brewers! Bring it in."
3-Way IPA is a collaboration based on mutual admiration. It's a chance to share ideas and techniques with some of the world's finest IPA brewers. Ultimately that knowledge is utilized in the brewing process and refined over the course of extensive beta batch testing. Four test batches were brewed this year, each with subtle changes to ingredients, amounts, and timing of additions.
THE MALT BILL
Tyler: "Shoot for 7.4?"
Chris: "7.3 ABV works for me."
Jeremy: "7 point 35, right down the middle. Call it a sessionizzle."
Tyler: "Fo shizzle."
With the grain bill the goal was to produce an ultra-pale color, creating a simple yet solid canvas for maximum hop expression. 2-row barley is the base with additions of Pilsner, C15, and wheat (although Carapils was used in one test batch). A lower than average mash temp decreased the amount of residual sugar. This allowed the beer to have sweetness derived from the hop character rather than the malt. Astoria's slow sand-filtered water is ideal for brewing. This was enhanced with gypsum and calcium chloride to decrease the mash PH and improve hop utilization.
THE HOPS
Jeremy: "Mo' hops, mo' money."
Chris: "Long as my pint is phat, I don't give a f*** where my IBUs at."
Tyler: "I feel ya. Make the beer, don't let the beer make you."
Hop additions were as follows:
1st - Apollo hops for bittering - a high alpha hop that tends to exude grapefruit notes and contributes to an elaborate citrus character as it interacts with the aroma hops.
2nd - Simcoe, and a lot of it. This addition is 2x the quantity of the 1st addition.
3rd - Simcoe, Citra, and Mosaic, added later than the average 3rd addition to decrease bittering and magnify the pleasant citrus character.
Dry Hopping – Double dry-hopped with Galaxy, Mosaic, and Citra. These hop additions create peach, pineapple, and grapefruit taste and aroma. The second dry hop addition is roused with CO2 to boost the hop efficacy.
THE BEER
Jeremy: "We cool?"
Chris: "Keepin' it real."
Tyler: "One love."
3-Way IPA is an unfiltered beer, pale in appearance, combining a balanced juicy body, superb lacing, and every citrus fruit aroma you can imagine. Give your beer its props - keep it cold-stored and drink fresh.
Look for Fort George 3-Way IPA in 16-ounce four-packs and draft starting the week of June 13 and throughout the summer. Fort George beer is distributed exclusively in the Pacific Northwest. For a preview join Chris, Tyler, and Jeremy at the following release parties:
Boise, Idaho - Thursday June 9th - 5pm to 9pm
PreFunk Beer Bar - 1100 W Front St
3-Way IPA and an assortment of taps from
Fort George, Barley Brown's, and Melvin Brewing
Portland, Oregon - Friday June 10th - 5pm to 9pm
White Owl Social Club - 1305 SE 8th Ave
Live music from Brass Monkeys - no cover
3-Way IPA and an assortment of taps from
Fort George, Barley Brown's, and Melvin Brewing
Seattle, Washington - Saturday June 11th - 5pm to 9pm
Brouwer's Cafe - 400 N 35th St
Live music from Brass Monkeys - no cover
3-Way IPA and an assortment of taps from
Fort George, Barley Brown's, and Melvin Brewing
About 3-Way IPA – A Fort George summer seasonal in a can since 2013. Every year features a new collaboration, a new recipe, a new can design, but with the same 3-Way IPA name. 3-Way IPA is a chance to share techniques and knowledge with some of the finest IPA brewers in the country. It's an opportunity to swap stories and forge new relationships. And ultimately it's about the beer – a unique IPA each and every year. Available in 16-ounce four-pack cans and draft from June to September, distributed exclusively in the Pacific Northwest.
2013 – Fort George, Gigantic, Lompoc
2014 – Fort George, Boneyard, Block 15
2015 – Fort George, Georgetown, pFriem
2016 – Fort George, Barley Brown's, Melvin Brewing
About Melvin Brewing – www.melvinbrewing.com - Talk of Melvin began on the West coast - but the heart of Melvin started beating in the small town of Jackson Hole, Wyoming. With big ideas and even bigger barrels of hops, Melvin now takes off (its pants) in the hands of Owner Jeremy Tofte, Co-Founder/Drunken Brewmaster Kirk McHale, and head Production Brewer Dave Chichura. Jackson Hole, Wyoming.
About Barley Brown's Beer - www.barleybrownsbeer.com - Barley Brown's is a family-owned brewery and restaurant offering a wide variety of awesome pub food and small-batch, hand-crafted beers. Baker City, Oregon.
About Fort George Brewery – www.fortgeorgebrewery.com - Fort George crafts original beers distributed exclusively in the Pacific Northwest. Whether in cans or kegs, at the pub in Astoria or on your front porch, Fort George beer brings people together in aromatic headiness and lupulin ecstasy. Astoria, Oregon.
Posted by Russ
Saturday, May 14th 2016
6th Annual AmeriCAN Canned Craft Beer Festival Winners Announced
Announcing the 2016 AmeriCAN Canned Craft Beer Festival Winners!
Scottsdale, AZ — Professionally produced by HDE Agency in partnership with SanTan Brewing Company, the 6th annual AmeriCAN Canned Craft Beer Festival will return to the Scottsdale Civic Center tomorrow, Saturday, May 14th. But first, here are the official 2016 winners as voted on by a group of over 30 certified beer judges who sampled more 346 beers from 15 different U.S. states at Hotel Valley Ho in Scottsdale on Friday, May 13.
So, without further ado, here are the 2016 Ameri-Can Canned Craft Beer Festival winning beers!
Best in Show
Melvin Hubert | Melvin Brewing Co. | WY
Hubert? I've heard of him. A friend of a friend knows him. Apparently he's awesome, but we've never met. Well. It's about time you did. Most you connoisseurs would just call him an IPA, but we call him an MPA. The Melvin Pale Ale. A welcomed hand shake to your taste buds. Light, crisp, fresh and a little bitty bitter. Lets just say he won't be that jerk that leaves you at the bar at 2am. He's low in alcohol. What a nice guy... that Hubert. - via Melvin Brewing Company

Category 1: India Pale Ale
Gold: Melvin IPA | Melvin Brewing Co. | WY
Silver: Black IPA | Santa Fe Brewing | NM
Bronze: Marble IPA | Marble Brewery | NM

Category 2: American Pale
Gold: Melvin Hubert | Melvin Brewing Co. | WY
Silver: Brooklyn Summer Ale | Brooklyn Brewing Co. |NY
Bronze: Easy Up Pale | Coronado Brewing |CA
Category 3: English Pale Ale
Gold: Lumberyard Red | Lumberyard Brewing | AZ
Silver: Arizona Trail Ale | THAT Brewery | AZ
Bronze: 8th Street Pale Ale | Four Peaks Brewing Co. | AZ

Category 4: Wheat Ale
Gold: Ebel Weiss | Two Brothers Brewing | IL
Silver: Sam Adams Nitro White | Boston Beer Co. | MA
Bronze: El Hefe Speaks | DC Brau Brewing Co. | DC

Category 5: Stout & Porter
Gold: Zonker Stout | Snake River Brewing | WY
Silver: The Hu$$tler | Huss Brewing | AZ
Bronze: Achocolypse | Prescott Brewing Co. | AZ

Category 6: Amber & Brown
Gold: Bomber Mountain | Black Tooth Brewing | WY
Silver: Barrio Rojo | Barrio Brewing Co. | AZ
Bronze: Saddle Bronc | Black Tooth Brewing | WY

Category 7: Gold, Blonde, Pilsner & Light Lager
Gold: Beerito | Oskar Blues | CO
Silver: Prima Pils | Victory Brewing | PA
Bronze: Jenny Lake Lager | Snake River Brewing | WY

Category 8: Fruit Beer
Gold: Razzleblaster Busey | Sun King Brewery | IN
Silver: Grapefruit Sculpin | Ballast Point Brewing Co. | CA
Bronze: Modus Mandarina | Ska Brewing | CO

Category 9: Specialty Beer
Gold: Collette | Great Divide Brewing | CO
Silver: Lawyers, Guns & Money | Crazy Mountain Brewing | CO
Bronze: Otra Vez | Sierra Nevada Brewing | CA
Prost to all who entered and won, we can't wait to share your canned craft beers with festival patrons on Saturday!
Located at the Scottsdale Civic Center, 3939 North Drinkwater Blvd, Scottsdale, AZ 85251, AmeriCAN Canned Craft Beer Festival will celebrate the canned craft beer revolution with live entertainment, food, a VIP tent, beer science garden and beer Olympic games. New elements this year include a mobile canning station and brewing demonstrations.
Admission is $45 at the door and includes a souvenir can plus 20 four-ounce pours. This is a 21 and over event, no exceptions. Ticket purchasers and all guests must be 21 or over and must present a valid picture ID upon admission. For more information, visit www.cannedcraftbeerfest.com.
A portion of event proceeds will benefit the Scottsdale Cultural Council and the Arizona Society of Homebrewers (ASH). The Scottsdale Cultural Council serves Scottsdale residents, visitors, cultural institutions and artists by creating and advancing high quality arts and cultural experiences and opportunities. For more information about the Scottsdale Cultural Council, visit www.sccarts.org. The Arizona Society of Homebrewes strives to preserve and promote the time-honored tradition of homebrewing and to recognize it as an art form through information, education and dedicated practices. For more information and to become a member, visit ASH online at www.azhomebrewers.org.
For more event information or to purchase tickets, visit www.cannedcraftbeerfest.com. Also, be sure to "like" the event Facebook page at facebook.com/AmeriCANfestival and follow on Twitter @AMERI_CANFEST and on Instagram @AmeriCANcraftbeerfest.
Posted by Russ
Tuesday, May 10th 2016
Almanac Beer Company Releasing Cans Beginning this Summer
Almanac Beer Co. Releases Beer in Cans
Almanac Beer Co. begins packaging four year round fresh beers in cans.
Almanac Beer Co. is proud to announce the debut of four year-round beers packaged in cans for Summer 2016. These new and revamped offerings include: Craft Pilsner, Mandarina, San Francisco IPA, and Saison Dolores.
Brewed and canned in San Francisco in collaboration with Speakeasy Ales & Lagers, these new beers highlight freshness, flavor and aroma. The decision to can the Fresh Beer Series stems from increased shelf stability and customer portability that only cans can offer.
"We are incredibly excited to be offering these new beers, in a new package," said Jesse Friedman, Almanac's co-founder and brewmaster. "We rebuilt all of our year-round beers to make these incredibly delicious, bright, flavorful beers designed to be enjoyed outside and with great food. We can't wait to see our beers popping up on beaches, in parks, and the like."
Craft Pilsner: Almanac's Craft Pilsner is a crisp, dry-hopped lager that provides a new age twist to the traditional German style. Citra, Mosaic, Simcoe, and Mandarina Bavaria hops provide a melon and citrus nose backed by 100% Pilsner malt. This beer is crushable, always begging for another sip and pairs well with sushi, outdoor grilling and quenches spicy dishes.
Mandarina: Mandarina's tart and citrusy profile makes it the perfect beer on a warm, sunny day. The combination of crisp tartness, tangerines and the citrus notes of Mandarina Bavaria and Citra hops, puts this farmhouse ale's fruity aroma over the top. Pair this summer sipper with beaches, sand, fresh seafood and citrus desserts.
San Francisco IPA: This West Coast IPA features an explosive aroma of citrus, tropical fruit and dankness from a blend of Citra, Mosaic, Simcoe, Hallertau Blanc and El Dorado hops. Intensely hoppy without overt bitterness, a light malt backbone balances this IPA, giving it a clean finish and making it a beer to be enjoyed again and again. Inspired by San Francisco but brewed to be enjoyed everywhere. Enjoy with Super Burritos, Hangtown Fry, cioppino and in the company of artists and friends.
Saison Dolores: This West Coast spin on a saison highlights tropical and floral aromas. An expressive fermentation provides hints of pineapple and white pepper, while a dry-hop of Mosaic and Hallertau Blanc doubles down on aromas of mango and cracked wheat. Enjoy this aromatic farmhouse ale with foraged mushrooms, funky washed rind cheeses and al pastor street tacos.
All four beers from the Fresh Beer Series will be available for California distribution in 12-ounce can six packs and on draft throughout California in mid-summer. Expect to see these beers throughout Almanac's entire distribution footprint shortly after.
About Almanac Beer Company: Almanac Beer Co. was founded in 2010 by Jesse Friedman and Damian Fagan with the goal of creating beers infused with the terroirs of California. Almanac focuses on beer brewed specifically to complement local cuisine sourced and prepared with the same great care and craft. Notably, Almanac Beer Co. was included in RateBeer's Top 100 Breweries of 2016, Good Food Award Winners of 2016, DRAFT Magazine's Top 25 Beers of 2013 and Paste Magazine's Best US Sour Beers in 2015. http://www.almanacbeer.com
Posted by Russ
Thursday, May 5th 2016
Brewery Spotlight:
Q & A with Rhinegeist Brewery
Next month Cincinnati's Rhinegeist Brewery will celebrate their third anniversary. In their few short years they've grown in leaps and bounds and become a force in the Ohio craft beer scene. Housed in a former Christian Moerlein bottling factory in the Over-the-Rhine (OTR) neighborhood - a historically working class part of the city that was once home to a thriving German immigrant community - Rhinegeist provides a total craft beer experience that's hard to beat. From their absolutely incredible brewery, to their package design, to the quality of their beers...they've put together something special that hits all of the senses. We wanted to learn a little more about Rhinegeist so we threw some questions at Dan Klemmer, a member of the brewery's marketing department, and he graciously responded to them. Cheers Dan!

Photo: CraftCans.Com
(CC) Rhinegeist is not located in an industrial park like a lot of breweries, instead you guys have a pretty unique (and awesome) location. What can you tell us about that building and the space itself? Oh yeah, we also heard the roof deck is now open!
(DK) Our building and location are two of the most important things to us. The brewery is 120,000 square feet and was a brewery prior to prohibition—this place was made for beer. Our taproom, which is 25,000 square feet, is where we have all sorts of activities including corn hole, ping pong, wiffle ball on Mondays and Tuesdays and even yoga on Sundays. We've hosted everything from motorcycle shows to indoor movie screenings. In addition, we've got two private event spaces and a brand new rooftop deck with 24 taps and craft cocktails!

Photo: Rhinegeist
(CC) Who is responsible for the art/design for your cans? They're some of the sharpest looking vessels we've seen.
(DK)We appreciate it! Our initial logo design was aided by a design firm in Austin (Helms Workshop) but the torch has since been passed to our incredible design team lead by Jonathan Reynolds. Essentially everything we do is done in-house which is a huge pride point for us. We certainly smile while we sweat.

Photo: CraftCans.Com

Photo: Rhinegeist
(CC)What sort of look is Rhinegeist going for with their designs?
(DK) We strive to be bright, clean and bold—our approach is amplification through the simplification. We aim for our design aesthetic to be impactful and stand out but ultimately let the beer speak for itself!

Photo: Jerry Fatora
(CC) So, why cans? What was it that led to that decision and how has that worked out?
(DK) First and foremost, cans keep the beer better (no light, no oxygen) so that's a no-brainer as we hold quality and consistency above everything. They are also the sleek malt missiles that we feel best reflect our clean and bold mentality. We think the can takeover will continue and don't see that stopping anytime soon!
Photo: Rhinegeist
(CC) What is the overall direction that Rhinegeist is headed? Larger distribution? More capacity?
(DK) It's tough to tell what the future has in store other than trying to grow at the pace that makes the most sense. We've got more space in the brewery for tanks and we want to ensure that thirsty people are getting access to our suds, but we'll never do it at the rate the sacrifices what's most important to us.

Photo: CraftCans.Com
(CC) Having visited Cincinnati for the first time recently, I was blown away by the beer scene and how much the city seems to be changing. Can you speak to that a bit? Where do you envision Cincy in 5-10 years and how will Rhinegeist be a part of that?
(DK) It's been nuts, totally insane. There are now upwards of 18 breweries in the area—it's awesome! The city is getting more and more aboard the craft scene but there's still so much on the horizon. Drinking good and local beer will be a Cincinnati foothold for years to come and we believe the Queen City has the potential to be in the same boat as Denver and Portland in the future. For us, we hope to always be pushing the needle on what's new all the while staying true to consistency and quality, can't stress that enough.

Photo: CraftCans.Com

Photo: Jerry Fatora
(CC) Which Rhinegeist beers do you think the brewery is most proud of?
(DK) I think there are a bunch of beers that come to mind. Truth, our flagship IPA, is certainly the backbone of the brewery but I'd say Fiction, our Belgian XPA, is something that no one is really doing. Another brewery favorite is Pure Fury, our hoppy pale ale, that was the creation of our souring and barrel aging brewer. Both Fiction and Pure Fury are delicious beers that have killer cans and great stories. To round things off, Ink aged in Sherry Barrels, which won a Silver Medal at GABF certainly embodies the diligence and fervor we've been cultivating.

Photo: CraftCans.Com
(CC) What's the best part about the craft beer scene in Cincy?
(DK) It's the community of it. People around the city have embraced the craft movement and the breweries are pushing the envelope to brew the best beer possible. We collaborate, we celebrate, we challenge each other and we believe the craft beer scene is putting Cincinnati on the national map like it's never been before.
(CC) Thanks Dan! To anyone looking for a craft beer road trip, look no further than Cincinnati and definitely check out Rhinegeist when you're in town. Cheers!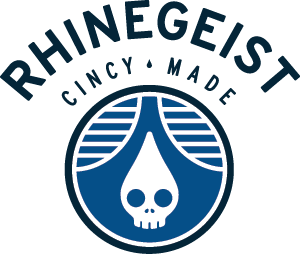 Posted by Russ