Beers:
2162
Breweries:
550
Styles:
100
States:
51*
Latest beer added:
Get Together
Brewed by:
NorthGate Brewing
Check out the ONLY canned beer database on the web.
*That includes Washington,DC!
Monday, May 23rd 2016
Fort George Team's Up With Barley Brown's and Melvin Brewing for 2016's 3-Way IPA Release
3-Way IPA Summer 2016
A Fort George, Barley Brown's, and Melvin Brewing Collaboration
Throwin' down the truth about 3-Way IPA 2016, straight from the OGs in charge – Chris Nemlowill at Fort George, Tyler Brown of Barley Brown's Beer, and Jeremy Tofte from Melvin Brewing (with translations for the non-brewers).
THE COLLABORATION
Chris Nemlowill: "Straight up, mad props for your hops. If your kettles had kicks, they'd dunk on Motumbo."
Jeremy Tofte: "Word. All your ickies are stickies and your drank is dank."
Tyler Brown: "My Brewers! Bring it in."
3-Way IPA is a collaboration based on mutual admiration. It's a chance to share ideas and techniques with some of the world's finest IPA brewers. Ultimately that knowledge is utilized in the brewing process and refined over the course of extensive beta batch testing. Four test batches were brewed this year, each with subtle changes to ingredients, amounts, and timing of additions.
THE MALT BILL
Tyler: "Shoot for 7.4?"
Chris: "7.3 ABV works for me."
Jeremy: "7 point 35, right down the middle. Call it a sessionizzle."
Tyler: "Fo shizzle."
With the grain bill the goal was to produce an ultra-pale color, creating a simple yet solid canvas for maximum hop expression. 2-row barley is the base with additions of Pilsner, C15, and wheat (although Carapils was used in one test batch). A lower than average mash temp decreased the amount of residual sugar. This allowed the beer to have sweetness derived from the hop character rather than the malt. Astoria's slow sand-filtered water is ideal for brewing. This was enhanced with gypsum and calcium chloride to decrease the mash PH and improve hop utilization.
THE HOPS
Jeremy: "Mo' hops, mo' money."
Chris: "Long as my pint is phat, I don't give a f*** where my IBUs at."
Tyler: "I feel ya. Make the beer, don't let the beer make you."
Hop additions were as follows:
1st - Apollo hops for bittering - a high alpha hop that tends to exude grapefruit notes and contributes to an elaborate citrus character as it interacts with the aroma hops.
2nd - Simcoe, and a lot of it. This addition is 2x the quantity of the 1st addition.
3rd - Simcoe, Citra, and Mosaic, added later than the average 3rd addition to decrease bittering and magnify the pleasant citrus character.
Dry Hopping – Double dry-hopped with Galaxy, Mosaic, and Citra. These hop additions create peach, pineapple, and grapefruit taste and aroma. The second dry hop addition is roused with CO2 to boost the hop efficacy.
THE BEER
Jeremy: "We cool?"
Chris: "Keepin' it real."
Tyler: "One love."
3-Way IPA is an unfiltered beer, pale in appearance, combining a balanced juicy body, superb lacing, and every citrus fruit aroma you can imagine. Give your beer its props - keep it cold-stored and drink fresh.
Look for Fort George 3-Way IPA in 16-ounce four-packs and draft starting the week of June 13 and throughout the summer. Fort George beer is distributed exclusively in the Pacific Northwest. For a preview join Chris, Tyler, and Jeremy at the following release parties:
Boise, Idaho - Thursday June 9th - 5pm to 9pm
PreFunk Beer Bar - 1100 W Front St
3-Way IPA and an assortment of taps from
Fort George, Barley Brown's, and Melvin Brewing
Portland, Oregon - Friday June 10th - 5pm to 9pm
White Owl Social Club - 1305 SE 8th Ave
Live music from Brass Monkeys - no cover
3-Way IPA and an assortment of taps from
Fort George, Barley Brown's, and Melvin Brewing
Seattle, Washington - Saturday June 11th - 5pm to 9pm
Brouwer's Cafe - 400 N 35th St
Live music from Brass Monkeys - no cover
3-Way IPA and an assortment of taps from
Fort George, Barley Brown's, and Melvin Brewing
About 3-Way IPA – A Fort George summer seasonal in a can since 2013. Every year features a new collaboration, a new recipe, a new can design, but with the same 3-Way IPA name. 3-Way IPA is a chance to share techniques and knowledge with some of the finest IPA brewers in the country. It's an opportunity to swap stories and forge new relationships. And ultimately it's about the beer – a unique IPA each and every year. Available in 16-ounce four-pack cans and draft from June to September, distributed exclusively in the Pacific Northwest.
2013 – Fort George, Gigantic, Lompoc
2014 – Fort George, Boneyard, Block 15
2015 – Fort George, Georgetown, pFriem
2016 – Fort George, Barley Brown's, Melvin Brewing
About Melvin Brewing – www.melvinbrewing.com - Talk of Melvin began on the West coast - but the heart of Melvin started beating in the small town of Jackson Hole, Wyoming. With big ideas and even bigger barrels of hops, Melvin now takes off (its pants) in the hands of Owner Jeremy Tofte, Co-Founder/Drunken Brewmaster Kirk McHale, and head Production Brewer Dave Chichura. Jackson Hole, Wyoming.
About Barley Brown's Beer - www.barleybrownsbeer.com - Barley Brown's is a family-owned brewery and restaurant offering a wide variety of awesome pub food and small-batch, hand-crafted beers. Baker City, Oregon.
About Fort George Brewery – www.fortgeorgebrewery.com - Fort George crafts original beers distributed exclusively in the Pacific Northwest. Whether in cans or kegs, at the pub in Astoria or on your front porch, Fort George beer brings people together in aromatic headiness and lupulin ecstasy. Astoria, Oregon.
Posted by Russ
Tuesday, May 10th 2016
Almanac Beer Company Releasing Cans Beginning this Summer
Almanac Beer Co. Releases Beer in Cans
Almanac Beer Co. begins packaging four year round fresh beers in cans.
Almanac Beer Co. is proud to announce the debut of four year-round beers packaged in cans for Summer 2016. These new and revamped offerings include: Craft Pilsner, Mandarina, San Francisco IPA, and Saison Dolores.
Brewed and canned in San Francisco in collaboration with Speakeasy Ales & Lagers, these new beers highlight freshness, flavor and aroma. The decision to can the Fresh Beer Series stems from increased shelf stability and customer portability that only cans can offer.
"We are incredibly excited to be offering these new beers, in a new package," said Jesse Friedman, Almanac's co-founder and brewmaster. "We rebuilt all of our year-round beers to make these incredibly delicious, bright, flavorful beers designed to be enjoyed outside and with great food. We can't wait to see our beers popping up on beaches, in parks, and the like."
Craft Pilsner: Almanac's Craft Pilsner is a crisp, dry-hopped lager that provides a new age twist to the traditional German style. Citra, Mosaic, Simcoe, and Mandarina Bavaria hops provide a melon and citrus nose backed by 100% Pilsner malt. This beer is crushable, always begging for another sip and pairs well with sushi, outdoor grilling and quenches spicy dishes.
Mandarina: Mandarina's tart and citrusy profile makes it the perfect beer on a warm, sunny day. The combination of crisp tartness, tangerines and the citrus notes of Mandarina Bavaria and Citra hops, puts this farmhouse ale's fruity aroma over the top. Pair this summer sipper with beaches, sand, fresh seafood and citrus desserts.
San Francisco IPA: This West Coast IPA features an explosive aroma of citrus, tropical fruit and dankness from a blend of Citra, Mosaic, Simcoe, Hallertau Blanc and El Dorado hops. Intensely hoppy without overt bitterness, a light malt backbone balances this IPA, giving it a clean finish and making it a beer to be enjoyed again and again. Inspired by San Francisco but brewed to be enjoyed everywhere. Enjoy with Super Burritos, Hangtown Fry, cioppino and in the company of artists and friends.
Saison Dolores: This West Coast spin on a saison highlights tropical and floral aromas. An expressive fermentation provides hints of pineapple and white pepper, while a dry-hop of Mosaic and Hallertau Blanc doubles down on aromas of mango and cracked wheat. Enjoy this aromatic farmhouse ale with foraged mushrooms, funky washed rind cheeses and al pastor street tacos.
All four beers from the Fresh Beer Series will be available for California distribution in 12-ounce can six packs and on draft throughout California in mid-summer. Expect to see these beers throughout Almanac's entire distribution footprint shortly after.
About Almanac Beer Company: Almanac Beer Co. was founded in 2010 by Jesse Friedman and Damian Fagan with the goal of creating beers infused with the terroirs of California. Almanac focuses on beer brewed specifically to complement local cuisine sourced and prepared with the same great care and craft. Notably, Almanac Beer Co. was included in RateBeer's Top 100 Breweries of 2016, Good Food Award Winners of 2016, DRAFT Magazine's Top 25 Beers of 2013 and Paste Magazine's Best US Sour Beers in 2015. http://www.almanacbeer.com
Posted by Russ
Tuesday, March 15th 2016
Hopworks Urban Brewery Releases Cans of Gear Up IPA
HOPWORKS RELEASES GEAR UP IPA AS A YEAR ROUND SIX-PACK
Today Hopworks Urban Brewery (HUB) announced the addition of a new beer to their year-round lineup. Gear Up IPA, a Northwest-Style IPA with an ultra-tropical hop profile, represents HUB's first 12 oz. six-pack can. Six-packs release in mid-April throughout HUB's distribution channels in Oregon, Washington, Alaska, Idaho, Utah and western Canada. The beer is currently available as a popular draft offering at both Hopworks brewpubs and at craft beer bars in Oregon and Washington.
From the recipe to the can artwork, every element of Gear Up IPA is meant to celebrate the majestic region HUB calls home. The beer is brewed with organic malted barley from Oregon, naturally filtered water from the Bull Run Watershed, and local hops from Oregon and Washington. The label portrays abstract landscapes of the Pacific Northwest sprinkled with images of the gear required to get outside and explore the natural world. The can was designed by Jolby & Friends, recognized throughout Portland for their NW-inspired patterns and illustrations.
"After a long day outdoors, everyone loves kicking back and cracking open an IPA. We brewed Gear Up IPA to be at the top of everyone's Essential Gear List," says Christian Ettinger, Hopworks Brewmaster and Founder. "Everyone at Hopworks loves this delicious beer and the way it inspires us to wander. We think you'll like it too."
Gear Up IPA is light-bodied, golden in color with clean, moderate bitterness. The beer is built to provide a direct line to a complex hop profile of ripe passionfruit, pineapple, and mango that balances dank hop aromas and flavors. Gear Up IPA is 6.2% ABV and 65 IBUs.
About Hopworks Urban Brewery
Hopworks Urban Brewery strives to revolutionize and inspire the brewing industry with practices that drive quality, protect the environment and improve the community we live in. Utilizing organic malts and a combination of locally-sourced, organic and Salmon Safe hops, the company's 20-barrel brewery produces 13,500 barrels of beer and cider a year for HUB's two brewpubs and for distribution throughout the Northwest. Hopworks is a family-owned and operated business, the first Certified B Corporation brewery in the Pacific Northwest, a gold-level bike friendly business, and is recognized as one of the Best Green Companies To Work For In Oregon. Learn more online at hopworksbeer.com
Posted by Russ
Monday, October 5th 2015
Deep Ellum Releasing Hop Seeker Fall Seasonal Wet Hop Beer
Hop Seeker - Wet Hop American Pale Ale
Let wet hop beer season begin! Here's a new can coming from Deep Ellum Brewing Company in Dallas that should have the mouths of many a hophead drooling.
From the brewery...
This is Hop Seeker, the 1st installment of our quarterly IPA series. Hop Seeker is a 100% wet hop ale, meaning we used fresh cut Centennial hops in the initial boil and will use fresh cut Equinox hops in the dry hop! Equinox is a newer variety that has a pronounced aroma profile with citrus, tropical fruit, floral and herbal characteristics, including lemon, lime and papaya. By using such an unholy amount of wet hops in copious late additions, we coaxed aromas of citrus, melon and resin from the green beasties. Wet hops all the way through!
Beer Stats...
ABV 5.6% IBUs 63
Hops: Centennial, Equinox
Malts: Pale Ale, Munich Ten, Wheat
Yeast: English Ale
For more visit www.deepellumbrewing.com
Posted by Russ
Wednesday, September 23rd 2015
Bell's Hopslam Coming to Cans!

COMING IN JANUARY 2016
To be honest, we sort of never thought this day would come. We've joked about cans of Hopslam in the past and even done a mockup of what a can might look like. Then, this happened...
From Bell's Brewery -
One of our most sought after beers, Hopslam Ale, will be packaged solely in six-packs of 12 oz. cans and kegs when it returns in January for its annual release.
The Double India Pale Ale, brewed with Michigan honey, will not be bottled as it has been in the past.
"With construction here at the brewery on top of an already very busy schedule for our existing Bottling Hall, this was the only way to ensure that this beer got to market as quickly and as fresh as possible," said Bell's Vice President Laura Bell.
"Our Canning Line is very well equipped to lend a hand and help get this aromatic beer to our fans and customers so that they can enjoy it as it is intended," she added.
Our current expansion will almost triple our Comstock Brewery's footprint once it is completed next year. Part of that construction is a new Bottling Hall that will be able to run at triple the speed of our current bottling line.
Future packaging decisions, beyond 2016, will be decided at a later date and as construction wraps up next year.
Hopslam (10% ABV) will be the sixth Bell's beer to be packaged in cans. Two Hearted and Bell's seasonal offerings (Oberon, Best Brown, Winter White and Smitten) are packaged in 4-packs of 16 oz. cans.
Two Hearted (year round) and Oberon (March - August) are also available in 12-packs of 12 oz. cans.
Posted by Russ
Saturday, September 19th 2015
Ska Brewing to Release Cans of Modus Mandarina IPA
DURANGO, CO. - Ska Brewing is announcing the release of Modus Mandarina IPA, an India Pale Ale brewed with orange peels and generously hopped with Mandarina Bavaria hops. The release will coincide with the Great American Beer Festival the week of September 21.
The beer originally brewed 3 years ago as a special release, is the first cousin of Ska's award winning Modus Hoperandi—brewed essentially the same but with a citrus twist.
"The dry-hopped addition of the Mandarina Bavaria give the beer a distinct aroma of tangerine and citrus," said Thomas Larsen, head brewer at Ska. "However, the orange peels added to the beer give it just a subtle touch of orange in the flavor profile."
Modus Mandarina will see its initial release at various Ska Brewing events throughout Denver during the week of the Great American Beer Festival, and will also be distributed initially throughout Colorado, Southern California, Arizona and Illinois. A complete list of Ska's events during the Great American Beer Fest can be found at www.skabrewing.com.
About Ska Brewing
Based in Durango, Colorado, Ska Brewing was founded in 1995 and produces over a dozen award-winning beers. Many of Ska's brews are widely available in cans including ESB Special Ale, True Blonde Ale, Modus Hoperandi IPA and rotating seasonals. For information (a lot of it), music, and a good time, visit www.skabrewing.com. Plug in to the latest updates, beer releases and shenanigans at facebook.com/skabrew and twitter.com/skabrewing.
Posted by Russ
Friday, August 28th 2015
Tallgrass Brewing Releases Cans of Bourbon Barrel Buffalo Sweat
A few weeks back Tallgrass Brewing Company announced the launch of their Explorer Series, something they dubbed "a new line of specialty beers packed with flavors we've been dreaming of creating since we started the brewery."
The first of these beers, Bourbon Barrel Buffalo Sweat, is now on shelves. According to Tallgrass, "It's our award-winning oatmeal cream stout, aged in bourbon barrels and blended with fresh Buffalo Sweat. The result is the same delicious oatmeal cream stout with that creamy espresso-chocolate flavor wrapped up in a warm bourbon blanket - a perfect beer to get you primed for more Explorer Series beers this fall."
About Bourbon Barrel Buffalo Sweat (ABV 5.8%, IBUs 10)
Bourbon Barrel Buffalo Sweat is the second barrel-aged release from Tallgrass Brewing Co. We took our award-winning oatmeal cream stout and aged it in bourbon barrels to create a rich, complex, medium-bodied beer with a chocolate-espresso flavor and aroma, and warm bourbon undertones.
Tasting notes: Creamy sweetness of milk sugar; dark-roasted barley; chocolate-espresso flavor and aroma; oak, vanilla and warm bourbon undertones.
Each brand in the Explorer Series will be packaged in 12-ounce can four-packs, as well as a mix pack box containing one of each of the Explorer Series beers, available in the November-December time frame. The first four brands in the Explorer Series include the following:
Bourbon Barrel Buffalo Sweat

: Tallgrass' award-winning oatmeal cream stout, aged in bourbon barrels to create a rich, complex, medium-bodied beer with chocolate-espresso flavor and aroma with an oak barrel backbone. Available September to December.


Big RICC

: Russian Imperial Stout with coffee and chocolate. Bold coffee flavor and aroma with strong chocolate notes. Full-bodied and great for sipping. Winner of silver medal in coffee beer at 2014 U.S. Open Beer Championships. Available October to February.


Wooden Rooster

: Tallgrass' Belgian-style Tripel ale, Velvet Rooster — the first-ever Tripel in a can — aged in rye whiskey barrels. It has a candy-like sweetness and slight spice, with vanilla, oak and rye whiskey prominent in aroma and flavor. Available in October.


Bourbon Barrel Vanilla Bean Buffalo Sweat with Cinnamon

: Tallgrass' highly popular winter seasonal, Vanilla Bean Buffalo Sweat, aged in bourbon barrels and enhanced with crushed cinnamon sticks during fermentation. Cinnamon is prominent in aroma and flavor along with vanilla, chocolate and espresso, with warm bourbon undertones.
Posted by Russ
Monday, August 24th 2015
Narragansett Releasing Lower ABV Cans of Town Beach IPA
PROVIDENCE, R.I. –Narragansett Beer today announces the release of Town Beach IPA, a new summer-fall brew that celebrates the beloved town beach of Narragansett, Rhode Island. Previously released as an Imperial IPA, Narragansett Town Beach IPA has been toned down for maximum drinkability, and is now the latest addition to 'Gansett's Sessionable Series. This cool, crisp beer delivers a taste as refreshing as a late summer dip in the Atlantic.
A top summer destination for vacationers when Narragansett Beer was founded in 1890, the town of Narragansett served as the ultimate summer escape for New Englanders, filled with luxury hotels and endless activities along the beloved town beach. Emblazoned with an image of a vintage beach scene, Narragansett Beer's Town Beach IPA label is an homage to the popularity of the local town beach, which still endures today.
The easy drinking session IPA features hallertau, nugget and EKG hops and is brewed with pale, cara pils and wheat malts, delivering a well-rounded hop profile with just the right amount of bitterness. Golden amber in color, Town Beach IPA is dry-hopped with citra hops at the finish, resulting in a crisp, clean and slightly fruity beer. Brewed under the supervision of Sean Larkin, Head Brewmaster for Narragansett and owner of Revival Brewing, Town Beach IPA is 4.7% Alcohol by Volume and 55 IBU's.

Town Beach IPA cans also feature a little homage to the hometown quarterback
Narragansett Town Beach IPA will be available in six packs of 16-ounce tallboy cans ($8.99-$9.99 SRP) and will be distributed throughout New England, New York, New Jersey, Pennsylvania, Delaware, the District of Columbia, Maryland, North Carolina, Florida, Portland, Ore. and Nashville and Chattanooga, Tenn. The timing and availability of Town Beach IPA will vary per market. The beer will be available alongside classic Narragansett Lager through mid-October.
For additional information about Narragansett's range of summer and fall beers or to find a retailer near you, visit www.narragansettbeer.com.
ABOUT NARRAGANSETT BEER:
Narragansett Beer…Brewed since 1890. 'Gansett is a straightforward, quality beer that has been a New England tradition for generations, producing a classic family of award-winning American lagers & ales. Today, 'Gansett is produced at top-rated breweries in Rochester, N.Y., and Westport, Mass. and is one of America's top 50 regional brewers and the fastest-growing in the Northeast. Narragansett is available for purchase in local restaurants, bars, and liquor stores throughout New England, New York, New Jersey, Pennsylvania, Delaware, the District of Columbia, Maryland, North Carolina, Florida, Portland, Ore. and Nashville and Chattanooga, Tenn.
Posted by Russ
Friday, August 21 2015
Terrapin Beer Company Creates All-Can IPA Survival Kit
Finally, a survival kit for any situation imaginable! Terrapin Beer Co. has created the ultimate IPA Survival Kit to sustain the hopheadiest of both backyard and backwoods adventurers. With four IPAs included, the IPA Survival Kit contains all the tools needed for a craft beer lover to be prepared for anything.
The IPA Survival Kit contains all three of Terrapin's year-round IPAs: RecreationAle, HI-5, and top-seller Hopsecutioner. Rounding out a solid set of gear is the kit-exclusive Krunkles Down Under, a South Pacific IPA brewed with nine hops from Australia and New Zealand. The recipe for Krunkles Down Under was discovered recently by a Terrapin explorer and is rumored to have been developed by intrepid hop hunter and legendary brewer Krunkles.
Terrapin is no stranger to the legend of Krunkles. A man of mystery and artful dodger of any relationship that could jeopardize his true identity, Krunkles' existence has never been verified. However, artifact after artifact and clue upon clue has Terrapin convinced they're just one step behind him. The recovery of the Krunkles Down Under recipe is just another piece of proof that keeps them hot on Krunkles' trail.
The IPA Survival Kit includes three each of:
• RecreationAle Session IPA: 4.7% ABV, 42 IBU
• HI-5 California-style IPA: 5.9% ABV, 80 IBU
• Hopsecutioner IPA: 7.3% ABV, 71 IBU
• Krunkles Down Under South Pacific IPA: 6.5% ABV, 80 IBU
Krunkles Down Under is available exclusively in the IPA Survival Kit!
Terrapin's IPA Survival Kit is packaged as a variety 12-pack of 12 oz. cans and is shipping
now to the brewery's full distribution footprint. Look for it on a shelf near you soon!
ABOUT TERRAPIN BEER CO.
Terrapin Beer Co. has a portfolio of six year-round beers, four Seasonal Sessions beers, the Monster Beer Tour collection of four high-gravity selections, and the Side Project series of one-time releases. Terrapin co-owners John Cochran, President, and Brian "Spike" Buckowski, Brewmaster, have developed a reputation for high-quality beers that push the boundaries of creative brewing.
Terrapin Beer Co. is open to the public for tours every Wednesday – Sunday with live music and tastings; please see our website for hours of operation. The brewery is located at 265 Newton Bridge Road in Athens, GA. The tours are an excellent opportunity to taste Terrapin's full line of award winning beers at their freshest and to see the brewing process first hand. For more information visit the website or Facebook page.
Posted by Russ
Friday, June 26th 2015
World's First Craft Michelada...and It's in a Can
(Detroit,MI) – Detroit's own Atwater Brewery and McClure's Specialty Foods have released the world's first craft Michelada – a German style lager with bloody mary seasonings.
The partnership marks the first collaboration between the two growing Detroit brands. "I had been wanting to get together with McClure's for years, and them with me, but we could never decide how to do it. It had to be big," says Mark Rieth, President of Atwater. "It was only when we put two of our best selling products together, our German Lager and McClure's Bloody Mary spices, that we knew we absolutely had to do it – and we're fired up about it."
The new Michelada combines Atwater German-style lager with McClure's Bloody Mary spices. The combination of the two makes for a slightly sweet, semi-salty, tangy concoction with just the right amount of heat. The Michelada is canned at the Brew Detroit plant in Corktown and will be distributed in four-packs of 16-ounce cans via Meijer and Busch's stores as well as other local retailers. Although there are other Michelada's on the market from major brands, Atwater and McClure's suggest this new brew is the "world's first craft Michelada."
"The Michelada is shaping up to be a hit for the both of us, and for our city in general. Everybody is thrilled with the product," says McClure's Co-Owner Bob McClure. "The partnership is something that people have been asking for for a long time. And now that we've got one product out the door, I can't see us not doing another."
While the Michelada will be available for purchase around the country starting in late June – it will be making its official Detroit debut at the Atwater and McClure's Michelada Wrestle 'Lotta launch party at Cheli's June 25th starting at 4pm. And everybody's invited. Attendees can expect a full serving of music, giveaways, and Mexican wrestling inspired by the clash of cultures and flavors that went into making the beer. Its Mexico-meets-Detroit-meets-Germany motif can also be seen on the can's luchador themed artwork.
Posted by Russ
Wednesday, June 10th 2015
Ground Breaker Brewing Releasing their Gluten-Free Beers in Cans
Portland, OR - Ground Breaker Brewing, the nation's first dedicated gluten-free brewery, is pleased to announce the release of their first canned beers. The cans will be available June 13th at the Ground Breaker Gastropub in southeast Portland. The first to be released, Olallie Ale and IPA No.5, will both be available in four-packs of 12 ounce cans.
IPA No. 5 is brewed with roasted chestnuts, roasted lentils, and Belgian-style candi sugar. A variety of Northwest hops give it a complex flavor profile, including pine, citrus, tropical fruit, and a touch of Crystal hop dankness.

Olallie Ale is a light and dry ale brewed with blackberries and rose hips. A large amount of hops with low bittering potential were selected to give Olallie a delicious taste without a high level of bitterness.
Head of Research & Development, James Neumeister, has made canning Ground Breaker's gluten-free beer a top priority. "Since we started the brewery, the number one request has been for a 12 ounce package. We are happy to finally give our customers what they want," he said. Canning Ground Breaker's beers was made possible by the generous support of fans through a crowdfunding campaign this past winter. They would like to extend a large thank you to everybody who pitched in to make their dream a reality.
Ground Breaker Brewing is especially excited to offer their newest beer, Olallie Ale, in a 12 ounce can. Neumeister explains, "Olallie Ale was designed from the beginning to be served in a can and on draft. Olallie has been kept light and dry while maintaining a pronounced hop aroma. The rose hips provide the bridge between the hops and the blackberries making it all work."
While the award-winning dedicated gluten-free brewery is successfully launching their 12 ounce products, they're also seeking help from their gluten-free fans in California. The brewery has been unsuccessful in finding a distributor willing to offer their beers in the state. "We have been trying to establish a relationship with a craft beer distributor since last year with no success," Neumeister said. "The craft beer distributors in California do not seem to believe Californians would want our delicious gluten-free craft beer."
Ground Breaker Brewing has decided to appeal to the masses by urging individuals in California to ask their local stores, restaurants, and pubs to please carry their beers. They hope to generate enough interest so distributors will decide to sell their award-winning offerings, especially now that Olallie Ale and IPA No. 5 will be available in an easy to transport 12-ounce package.
About Ground Breaker Brewing
Ground Breaker Brewing is a dedicated gluten-free craft brewery and gastropub founded in 2011. Ground Breaker Brewing's facility is entirely gluten-free; no gluten is allowed on the premises. The gastropub is located at 2030 SE 7th Ave., Portland, OR. Ground Breaker's beers are distributed in OR, WA, ID, and BC and AB in Canada.
Posted by Russ
Tuesday, March 24th 2015
Nitro Cans Go Widget-Less
Yardley, Pennsylvania's Vault Brewing Company is set to make craft beer history this weekend when cans of their Nitro Can Coffee Stout are released to the public. The 12 oz. cans may look like any others but inside is something altogether different. Inside those cans is a rich, roasty, coffee stout that - unlike any other craft beer in a can - has been nitrogenized without the use of a widget. That's right. No widget.

Nitro Can Coffee Stout is the first canned nitro beer without a widget
Nitrogenized/nitrogenated - or just plain Nitro - beers are a big deal in the craft world. Last year Oskar Blues became the first in the industry to release acanned nitro beer when they dropped Old Chub Nitro – a nitrogenized version of their Old Chub Scotch Ale. A few months ago, Saranac Brewing Company released nitro cans of their Disruption Brown Ale – becoming the first east coast brewer to can a nitro beer and just the second in the country to do so. Both Old Chub Nitro and Disruption Brown Ale are packaged in cans that feature a floating "widget" – a technology pioneered by Guinness in the 70s and 80s.
To perfect the widget-less nitro can, Vault Brewing worked closely with River City Cannery, a mobile canning operation based in Arlington, Virginia, and Chart Industries, an international cryogenics company. We wanted to learn more about Vault's Nitro Can Coffee Stout and this revolutionary packaging process so we reached out to James Cain, Co-Founder at Vault Brewing. James was kind enough to answer all of our questions. Cheers James!
(CC) Are any other craft brewers packaging their beer in a widget-less nitro can?
(JC) Unless they have kept it really, really quiet, no.
(CC) What sort of process is involved with canning a nitro beer?
(JC) It has to do with how the beer becomes nitrogenated. Nitrogen has a very low solubility rate in beer and requires a lot of pressure to force it to dissolve into a solution. Once it is dissolved, it doesn't want to stay long and will immediately begin degassing as soon as there is a pressure change (like you'd see on a nitro tap or when you open one of our cans). The challenge in canning involves understanding the properties of nitrogen and how to best introduce it into the beer during the packaging process. Other variables, such as beer CO2 levels, pressure, and temperature play significant roles in producing a perfect nitro can.
(CC) What can you tell me about the beer itself?
(JC) This specific beer is one of many Coffee Stouts we've been producing over the years. We're very passionate about coffee and its relationship to beer and believe there is a great opportunity to highlight origin specific flavor profiles in a complimenting beer, rather than just add arbitrary "coffee" to a finished stout. In this particular beer, we sourced Guatemalan and Papua New Guinea beans and had them roasted to our specifications by a local roaster. The result of this blend added notes of caramel, hazelnut, peanut butter, and cacao to the base beer and resulted in a really nice, rounded coffee & beer flavor pairing.

2,000 cans of Nitro Can Coffee Stout go on sale at the brewery on March 29th
(CC) Is this something that we can expect to see a lot more of in the future? Are other breweries expressing interest?
(JC) You will certainly see a lot more from us in the future, in both coffee beers and other nitro can variants. As for other breweries, we'll have to see. We're open to collaborations…
(CC) Does Vault plan on doing any other Nitro beers?
(JC) Nitro beers are an important component of our beer dispensing program and you can always find them on tap at the brewpub. In terms of cans, we plan on experimenting with other styles as well.
(CC) When and where are cans being released?
(JC) Cans will be released on March 29 in singles and 4-packs for $3/can. As of now, you can only pick up at our brewpub.
Posted by Russ
Tuesday, March 24th 2015
Warped Wing Brewing Co. to release Self Starter Session IPA in cans
Warped Wing Brewing Company (WWBC) is excited to announce the release of its first seasonal IPA in cans. Self Starter Session IPA (5.2% ABV) will be released Monday, March 30th in Dayton and Cincinnati. This marks the 4th can released since the brewery's opening in 2014.

Once, there lived an engineer. Innovator. And indefatigable holder of 186 patents. Who, in 1911, filed U.S. Patent No. 1,150,523. An electric starting device for automobiles. To not a single person's disparagement, it ended the era of the hand-crank. Fitting, then, that you'll be holding this. Named as much for the inventor. As for what he invented.

Self Starter. This session India Pale Ale is pale orange in color with copper highlights. Its citrus/fruity aroma and flavors comes from the Amarillo hops that were added during the boil and the dry hopping at the end of fermentation. The malt character is slightly bready or nutty to start. This beer finishes with a patently dry close. Carry on.

Self Starter will be available in the market from April thru August in both draught and cans. The beer will be tapped at the brewery this Thursday and draught and cans will be released to taverns, restaurants, and select retail accounts the following Monday.

Creative Credits Creative Director/Can Designer: John Pattison Illustrator: Tom Post Copywriter: Paul Singer Videographer: full frame photography / films

Warped Wing Brewing Company is located in an old foundry in downtown Dayton, Ohio. The brewery opened in January 2014 & celebrates Dayton's rich history of invention, innovation and industry. Warped Wing uses this core history as inspiration for their uniquely crafted beers and brewery/taproom. This is the foundation on which the Warped Wing brand is grounded.
Posted by Russ
Tuesday, February 17th 2015
Hopworks Urban Brewery Releases Rise Up Red IRA & Nonstop Hef Hop
Hopworks Urban Brewery Releases
Rise Up Red IRA and Nonstop Hef Hop
Today Hopworks Urban Brewery announces the release and distribution of two beers - Rise Up Red India Red Ale and Nonstop Hef Hop. Rise Up Red IRA is available in 16 oz cans and on draft throughout the Pacific Northwest. Nonstop Hef Hop, a session wheat beer, is a new beer, packaged in an innovative series of 16 oz cans. 
Rise Up Red IRA


Rise Up Red IRA is one of the first beers brewed at Hopworks, it won a gold medal at the 2009 Great American Beer Festival and has remained a cult classic for years in the Pacific Northwest. The seasonal offering is an India Red Ale, mahogany in color, smooth, 

made with certified organic barley, and packed to the rafters with organic kettle hops. The beer is then dry-hopped with Salmon-Safe Certified hops at to punch up the aroma. 

6.1% ABV, 65 IBU.
Rise Up Red is part of the Hopworks NW Legends Series, which highlights histories and stories from the Pacific Northwest. The beer's artwork prominently features Mt. Hood, Portland's neighboring mountain, along with the hidden image of another NW legend. Following Organic Rise Up Red in Hopworks' seasonal offerings is Pig War White IPA.
Nonstop Hef Hop


Nonstop Hef Hop is the newest year-round beer in Hopworks portfolio. This low-alcohol, dry-hopped American-Style Wheat beer was created for drinkers who maintain active lifestyles. The beer clocks in at just 3.9% ABV and has the feel of a NW Pale Ale in body and flavor, but without the extra weight and alcohol. Nonstop Hef Hop is brewed with a variety of organic NW hops, organic malted barley, and red spring wheat grown on the Hopworks estate farm on San Juan Island. 
Hopworks adopted a playful and innovative approach to the artwork of Nonstop Hef Hop by packaging it in twelve different 16 oz cans, each showcasing different NW Activities. Each 4-pack will feature a random assortment of designs including: bicycling, camping, running, kayaking, soccer, basketball, darts, corn hole, skateboarding, disc golf, skiing, and fishing.

About Hopworks Urban Brewery


Founded in 2007, Hopworks Urban Brewery is committed to brewing world-class beer as sustainably as possible using organic malts and hops sourced primarily from the Northwest. The company's 20-barrel brewery produces 12,500 barrels of beer a year for HUB's two brewpubs and for distribution in Oregon, Washington, Idaho and British Columbia. Hopworks incorporates a range of sustainable practices in its operation and makes every effort to protect "our" future with a thoughtful alternative.  HUB is 100% renewably 

powered and "cradle to gate" carbon neutral. Visit Hopworks online at

 

www.HopworksBeer.com

 and follow us on

 

Twitter

 and

 

Facebook

.

Posted by Russ
Thursday, February 12th 2015
Sixpoint Launching Cans
of ABIGALE in March
Brooklyn-based Sixpoint Brewery today announced the resurrection of the "ABIGALE" -- an original Sixpoint formulation first crafted in 1999, while founder Shane Welch was a hippie living in Madison, Wisconsin. During this crunchy granola phase of his life, he was romanced by the stories of craft beer staying alive during the "Dark Ages" through the monastic brewing traditions across Europe. After reading through dozens of brew books, Shane was inspired to take things in a new direction. He purchased a bottle of Chimay from Riley's Wines of the World, drank 90% of the beer, and cultured the remaining yeast in the bottle with a malt starter solution and an airlock. Three days later, ABIGALE was born.

"I remember one Saturday evening watching the yeast swim around in the carboy, which I clutched like a newborn baby" remarked Welch. "I shined a flashlight in the beer and gazed into the interior of that vessel, mesmerized by the swirling turbulence of fermentation. It was bad-ass! These medieval monks must have thought there were crazy demons swimming around in these beers. Wicked!"

Things went smoothly until the high-gravity beer, which fermented out to 8.8% ABV, exploded and blew the airlock into the air, and created a projectile of yeast and krausen all over the place. To make matters worse, the carboy was kept in the closet, and it ended up spewing all over his roommates' winter coats. Welch recalled, "They were pretty pissed off. But when I told them there was beer involved and I'd take care of the dry cleaning, they pretty much shrugged it off and went back to playing video games."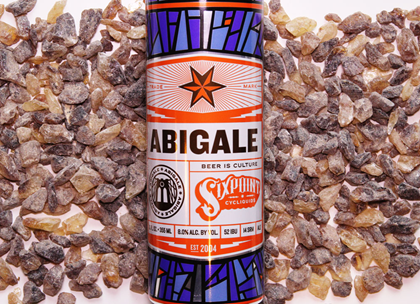 ABIGALE, lovingly known as "Abbey" at Sixpoint - which is a play on A-BIG-ALE (see what we did there?), is an abbey-stylie inspiration. Like all Sixpoint beers, it does not intend to recreate a classic style, but instead draw inspiration by soaking in the culture and experience of these traditions, then riffing out a unique jam. Sixpoint Brewer Shaun Carney commented, "I think the the way the beer is tasting is not a classic Abbey - which is good, because we don't want it to be. It celebrates the abbey brewing history but it also celebrates the American brewing industry. The blending of the classic European malts, the Belgian tradition of adding candi sugar, procuring an authentic Abbey yeast, and blending in American hops take this beer into a new direction. I'm psyched!"
Sixpoint traveled to the Netherlands and Belgium to meet with the Abbey and Trappist brewers, learn more about the classic monastic brewing traditions and fermentation specifications, and soak up the energy of the Original High Gravity brewing crew. Getting some high-fives from the brother (and father) brewers was exactly the type of good vibes the Abigale needed to get it over the goal line. "There's something really special about crafting an original recipe on the stove, then 16 years later traveling to Belgium to meet the dudes who inspired the source of everything...and then dropping this OG in a sixer for our fans network wide" Welch beamed. "The combination of spicy yeast flavor, rich malt, and American hops is what beer lovers have been praying for!"
Posted by Russ
Tuesday, January 20th 2015
Narragansett Honors Horror Writer with New Lovecraft Honey Ale
NARRAGANSETT HONORS H.P. LOVECRAFT WITH NEW HONEY ALE
Lovecraft Honey Ale first in series of limited edition beers
to celebrate renowned horror author
PROVIDENCE, R.I. –Narragansett Beer today announces the release of Lovecraft Honey Ale to celebrate the life, works and heritage of Providence's hometown horror fiction writer, H.P. Lovecraft. As the prologue in Narragansett's Lovecraft Series, the new beer is crafted in collaboration with Revival Brewing Company.
Born in 1890, the same year that Narragansett Beer was founded, H.P. Lovecraft spent the majority of his life in Providence as a struggling author, only achieving literary fame posthumously. Commonly referred to as the "Father of Modern Horror," he is often cited as an influence on other notable authors and artists from Stephen King to Metallica to Ridley Scott. H.P. Lovecraft is best known for creating Cthulhu, a fictional deity described as being part man, part dragon and part octopus. It is this creature that inspired the Cthulhu Mythos, a cultural lore and shared fictional universe of Lovecraft's successors.
"When the brewery was shut down, the spirit of Narragansett never died; it went underground, to a deep and dark place," said Mark Hellendrung, President of Narragansett Beer. "Since reclaiming our beer in 2005, we've worked hard to stay true to our roots. But after being in that dungeon for so long, we came back with some baggage. Just like the nameless protagonist from "The Outsider," we emerged in the light a little different. A little…strange. Think of this brew as our bold, our obscure, our tampered-with mind. It won't be for everyone, and if it isn't for you, you'll know exactly who it IS for. This is OUR Lovecraft."
Each chapter in the Lovecraft Series will pay tribute to a different Lovecraft tale, represented by the beer's style and label, each of which will be designed by local Rhode Island artists. Serving as the series' prologue, Lovecraft Honey Ale is a reference to space mead consumed by the winged Byakhee, interstellar predators that first appeared in the famed Lovecraft short story, "The Festival." The label artwork for Lovecraft Honey Ale was designed by Providence-based artist AJ Paglia.
Brewed under the supervision of Sean Larkin, Head Brewmaster for Narragansett and owner of Revival Brewing, Lovecraft Honey Ale is made with a base of honey malt and finished with a touch of hops, producing a bold yet sweet honey-colored ale. Backboned by the combination of five pale malts, the beer opens up with a hint of honey sweetness, then turns with a herbal hop crescendo and a smooth finish.
Narragansett's Lovecraft Honey Ale will be available starting on January 19th, the birthday of Edgar Allan Poe, a significant literary influence on H.P. Lovecraft. The brew will be available in six packs of 16-ounce tallboy cans, priced between $10.99 - $11.99 SRP per six pack. The beer is 7 percent Alcohol By Volume and 30 IBUs (International Bitterness Units). Lovecraft Honey Ale will be distributed throughout Rhode Island, Massachusetts, Connecticut, New Hampshire, Vermont, Maine, New York, Philadelphia, Washington D.C., North Carolina, and Portland, Ore. The timing and availability of Lovecraft Honey Ale will vary per market.
For additional information about Narragansett Lovecraft Honey Ale or to find a retailer near you, visit www.narragansettbeer.com.
ABOUT NARRAGANSETT BEER:
Narragansett Beer…Brewed since 1890. 'Gansett is a straightforward, quality beer that has been a New England tradition for generations, producing a classic family of award-winning American lagers & ales. Today, 'Gansett is produced at top-rated breweries in Rochester, N.Y., and Westport, Mass. and is one of America's top 50 regional brewers and the fastest-growing in the Northeast. Narragansett is available for purchase in local restaurants, bars, and liquor stores throughout New England, New York, New Jersey, Eastern Pennsylvania, the District of Columbia, North Carolina, Florida, Portland, Ore. and Nashville and Chattanooga, Tenn.
Thirsty for more? Visit: www.narragansettbeer.com
ABOUT REVIVAL BREWING COMPANY:
Revival Brewing Company, established in late 2010 is the Brain-Child of brewmaster Sean Larkin.

Revival is committed to creating wonderful, distinctive beers that appeal to everyone, from beer aficionados to those just beginning to experience the world of craft brews, and serving our local community is central to how we operate. We partner with local businesses to develop distinct local flavors -- like our White Electric Coffee Stout -- and we brew all of our beer at Brutopia in Cranston, RI or Cottrell Brewing Company in Pawcatuck, CT.
Posted by Russ
Tuesday, January 20th 2015
Fort George Brewery Releasing Plazm Farmhouse Ale Collaboration
The Northwest loves independence. With locally sourced foods, neighborhood craft breweries, and indie record labels and magazines, people here take pride in sidestepping the establishment. In many ways Fort George's latest collaboration represents this spirit - from the satisfyingly messy 16-ounce can design, to the dark Saison within. It's a blatant disregard to a hop-heavy culture. Introducing Plazm Farmhouse Ale: a limited Pacific Northwest collaboration featuring the art of Plazm Magazine and the craft brewing of Fort George and The Commons.
Art
Founded in 1991 by Portland artists, Plazm magazine publishes challenging and innovative art, design, cultural, and literary works. Plazm is also an award-winning design firm led by creative directors Joshua Berger and Niko Courtelis. Plazm has been heavily involved in creating the Fort George aesthetic, including the iconic building logo, custom typography, and striking can designs. For a free downloadable sample of the current issue of Plazm magazine, go to plazm.com/farmhouse. To see a video of every page of every issue of Plazm magazine being turned by a summer intern check out this video: http://youtu.be/IC19nUZ6xGg. And to view the two hour video in two minutes, watch their 10,000x edit: http://youtu.be/RxC7dWSbsxM
Beer
If you set out to make a Farmhouse Ale, who better to collaborate with than The Commons Brewery? From their beginnings on a 1-barrel nano system in Mike Wright's garage, to the upcoming 10,000 ft expansion on Belmont Street, The Commons has consistently brewed some of the finest Farmhouse Ales in the country. And while much focus is placed on the hop bill in the Pacific Northwest, this collaboration focuses on the less popular (yet most important) ingredient in brewing, the yeast. Fort George and The Commons worked closely to land on the perfect yeast for this beer, bringing out just the right flavors and aromatics. With a bright white head and a golden amber glow, expect hints of tropical fruit, with light mint, pepper, and clove.
Culture
Join Plazm magazine, Fort George, and The Commons in celebrating the official release of Plazm Farmhouse Ale with a free concert at Holocene in Portland. There will be a raffle for a Plazm Collector's Edition box, among other things, and a free limited-edition commemorative stamp for the first 50 people through the door. Plus listen to music from Asss, Regular Music, Mary Lattimore, and DJ Jason Urick.
Holocene - Portland, Oregon
1001 SE Morrison Street
Sunday - February 1st
8pm - 11pm
No Cover
And for the beer-centric enthusiasts, meet the collaborators at these events featuring tap lists from The Commons and Fort George:
The Bier Stein – Eugene, Oregon
1591 Willamette Street
Thursday – January 29th
6pm – 9pm
Belmont Station – Portland, Oregon
4500 SE Stark Street
Friday – January 30th
5pm – 8pm
Beer Junction – Seattle, Washington
4511 California Ave SW
Saturday – February 7th
4pm – 7pm
To independent making and publishing!

Plazm Farmhouse Ale is a limited seasonal available in 16-oz four-packs and draft starting January 23rd, and while supplies last.
Fort George: Distributed only in the Pacific Northwest
Posted by Russ
Monday, January 19th 2015
Carton Brewing Releases Regular Coffee Imperial Cream Ale Cans

Image by Patrick Elliott (@njcraftbeerguy)
Imperial Cream Ale
Regular Coffee
ABV: 12.0% | IBU: XX | SRM: XX
A Classic Jersey-ism is "regular coffee." Here when you order a "regular coffee" at any place you trust to make a pork roll and cheese you get a paper cup of coffee with "milk and 2 sugars" rather than a "black coffee that hasn't had the caffeine removed." Acidic bitter coffee flattened by milk and sweetened; the perfect foil for the salty unctuous savor of breakfast on a roll. For our homage to Jersey's breakfast beverage, we teamed up with our neighbors at Fair Mountain Coffee Roasters looking for an elevated version of classic crappy coffee. We chose Mexican Chiapas for its bitterness akin to artichoke, roasting it a little darker than usual, along with Ethiopian Sidamo for its pleasant lemon-like acidity, which we pushed up through fermentation. We added this coffee blend to a high gravity golden cream ale, contributing our "milk and 2 sugars." Drink Regular Coffee because running over a black beer with coffee is no way to get to work.
Posted by Russ
Saturday, January 3rd 2015
Maui Brewing Releases Lorenzini Double IPA Brewed with Tangerine and Blood Orange Juice
(Kihei, Hawaii) -A special beer for a special cause. Maui Brewing Company is releasing Lorenzini Double IPA as its winter seasonal release. The name comes from the sharks "Ampullae of Lorenzini", the shark's electro sensory organ used to detect changes in electric fields. This American Double IPA was brewed with blood orange, local citrus, and Maui cane sugar. The unique hop profile of Azacca, El Dorado, and Sorachi Ace lend big grapefruit, ripe mango and tropical aromas, followed by a clean, mildly sweet bitterness. At 7.6% ABV and approximately 80 IBUs, this a deceptively drinkable Double IPA.
"I've always loved the ocean and sharks. This project was a great way to help support local shark research and to show the importance of protecting these amazing animals…and I'm really enjoying this beer too." stated Garrett Marrero, Maui Brewing Co. Founder.
"We're really excited about the Lorenzini Double IPA and the generous contribution that MBC is making to our research program. This beer will help us expand our tagging and public outreach efforts as we begin to understand the movement behavior and habitat use of Hawaiian tiger sharks," stated Melanie Hutchinson, Ph.D., HIMB shark researcher. "This is a great example of a local company supporting local research, and I'm excited to drink the beer," adds Kim Holland, Ph.D., HIMB Director.Maui Brewing Co. is a craft brewery based on Maui and is Hawaii's largest craft brewer.
MBC operates a production brewery and tasting room in Kihei, as well as a brewpub in Kahana that create more than 50 different styles on a rotating basis. Maui Brewing Co. is available in 11 states and five countries with more areas to follow. Founded in 2005, Maui Brewing Co. is now on pace to produce approximately 40,000 barrels in 2015.
MBC is a fiercely local company and has remained steadfast regarding local production. With the motto "Handcrafted Ales & Lagers Brewed with Aloha", Maui Brewing Co. maintains respect for the environment, the community and its people, as we strive for enjoyment in life with every high-quality craft beer brewed. Our beers have been recognized worldwide for quality and innovation.
Posted by Russ
Tuesday, December 30th 2014
10 Canned Craft Beers to Look Forward to in 2015!
2014 has come and gone and hopefully it's been a good one for you. A load of new brewers joined the canning game and plenty of awesome brews hit shelves this year. So, what does 2015 hold in store for the canned craft beer world? Plenty! Here are 10 beers coming to cans in the coming year that we're excited about and we're certain there will be plenty of others as well. Cheers!

NUGGET NECTAR
Tröegs Brewing Company (Hershey, Pennsylvania)
Not that long ago Nugget Nectar held something of a cult status in the hoppy beer world. Increased production and distribution have diminished that somewhat, but this "Imperial Amber" remains one of those hop-centric beers that is big and balanced and certainly worthy of your fridge. Look for 16 oz. cans to ship next month! Oh yeah, another one of our list of beers we'd like to see canned way back in 2010 has now been canned...
SMOKE & DAGGER
Jack's Abby Brewing Company (Framingham, Massachusetts)
When it comes to lagers, Jack's Abby is the king (in our humble opinion). That's all they do…and they do it extremely well. From an outstanding Oktoberfest to an incredible Baltic Porter and even a few Imperial India Pale Lagers, this Boston area brewery has yet to brew a beer that has been met with anything but praise. In 2015, Jack's Abby will be moving into a new home and expects to become the second largest craft brewer in Massachusetts. They also have plans to can four of their year-round offerings including Smoke & Dagger, a delicious dark brew that straddles the boundaries of a Swarzbier and a Smoked Porter.
MOSAIC RED RYE IPA
Terrapin Beer Company (Athens, Georgia)
Back in 2013 this was Terrapin's Side Project #19. This is a poetic ode to the almighty Mosaic hop variety. A big enough hit to command larger distribution, Mosaic Red Rye IPA will be Terrapin's third canned offering when it hits shelves in 12 oz. cans early next year. If you're a fan of can art/design, Chris Pinkerton (who has done a number of other great labels for Terrapin, created a masterpiece with this design and it transferred perfectly to cans.
BOOMING ROLLERS
Modern Times Beer (San Diego, California)
One of four seasonal brews that Modern Times will be canning in 2015, Booming Rollers is a summer release that is chock full of Citra hops. If you like you're a fan of thirst-quenching, juicy, tropical IPAs then this is for you. Also, if you've got a trip to San Diego lined up for next year be sure to visit the Modern Times taproom!
WINDOW SEAT
Baxter Brewing Company (Lewiston, Maine)
This little, but quickly growing, Maine brewery had a big year in 2014. In the first quarter of 2015 they'll be releasing Window Seat, a coconut almond porter, which will be their permanent spring release. Perfect for mud season!
DOOMTREE
Surly Brewing Company (Minneapolis, Minnesota)
It goes without saying that anytime Surly releases a new can that it's going to make a list like this. All Hands, No Kings, is a collab with the band DoomTree and is described as a "dark gold, toasty, aromatic, subtly spicy, bitter enough, dry-hopped" beer. Oh yeah, Surly's new taproom in Minneapolis is finally open so add that to your list of things to see and do in the Twin Cities next year!

HEADWATERS ALE
Victory Brewing Company (Downingtown, Pennsylvania)
Victory is taking ownership a canning line of their own in 2015 and one of their first releases will be the supper sessionable Headwaters Ale. While it's really not this particular beer that we're crazy excited about, it's the other brands they'll be canning. Which ones might that be? I guess we'll all have to wait and see. Dirt Wolf Double IPA in a 16 oz. can anyone?
NINJA VS UNICORN
Pipeworks Brewing Company (Chicago, Illinois)
Pipeworks recently signed a lease on a facility and along with building a new brewery, they will also begin canning next year. The plan is for them to can five year-round beers and one of those that we're most excited to see in a can is their ridiculously hoppy, and ridiculously named, Ninja Vs.Unicorn. We could tell you about it OR we could let you read the kick ass description from the brewery… "Ninja vs. Unicorn celebrates the epic battle between two of the biggest hop-heads of lore. Brewed with over five pounds of hops per barrel, this unfiltered double IPA is sure to please the most discerning hop lover. Whether you're rooting for the mythical horned horse or the deadly assassin of the east, we hope you'll enjoy Ninja vs. Unicorn."
JULIUS
Tree House Brewing Company (Monson, Massachusetts)

You've likely never heard of this brewery if you don't live in New England. Not to worry, they're still pretty small. The good news is that that will all be changing in the coming year. Tree House has big plans for 2015 and that includes canning some of their amazing offerings. One that just might achieve the status of a certain brew in a silver can from Vermont is Julius. Described by the brewery as, "Bursting with 1.6 oz per gallon of American hops, Julius is loaded with notes of passionfruit, mango, and citrus. At 6.5% alcohol, it is refreshing and freakishly drinkable." We can't wait.
GRAPEFRUIT SCULPIN
Ballast Point Brewing Company (San Diego, California)
Ballast Point has steadily been adding to their canning output since they first put out cans a couple years ago. One of the first cans they dropped was Sculpin, a big IPA that has quite the fan following. In 2015 the brewery plans to can their Grapefruit Sculpin – a version of Sculpin brewed with grapefruit that is ridiculously good and crushable. Perhaps their Habanero Sculpin will be sent down their canning line next...
Posted by Russ
Tuesday, December 16th 2014
Modern Times Beer to Release Four Hoppy Seasonal Cans in 2015

Modern Times Releasing 4 Hoppy Seasonal Cans!
A few months back I was out in San Diego for a conference and managed to find a few hours to swing by and visit the Modern Times brewery. To say the taproom kicked ass would be an understatement. The place is awesome and the people there are awesome too. I can't say enough great things about Phil (who provided an awesome tour) and Nate (a.k.a. @toronadoislander) for all the great pours. If you EVER get a chance to visit Modern Times do not pass it up! My only complaint is that I could only take a few cans back with me! Well, the good news for anyone that lives in SoCal, or has friends/family/trading buddies there, Modern Times will be releasing four new cans - all of them hoppy - in the coming year. Hells yes.
Here is the run down...
Oneida - March through May - Oneida is Hallertau Blanc-centric. The bright tropical fruit and lemongrass notes give it an uber-pungent aroma, with the grapefruity citrus of Cascade providing a touch of balance. We've also added experimental hop variety 05256 to the mix, adding a nice hop complexity while keeping it a drinkable pale ale. While more aggressively bitter than Fortunate Islands, Oneida still has a light body and moderate ABV. We're considering making Oneida our spring seasonal, but that's all kind of up in the air.
Booming Rollers - June through August - Booming Rollers is a 6.8% ABV, 75 IBU IPA brewed and dry-hopped with Citra, Motueka, and Centennial. Although it finished bone dry (1.5P), the juiciness of the hops is the main story here. Citra is definitely the dominant flavor and aroma contributor, but Motueka makes its presence felt with some darker fruit notes and that strong tropical juiciness. The malt offers enough backbone to balance the bitterness and provide a light, crackery underpinning. The finish is characterized by a briefly lingering bitterness and loads more tropical fruit.
Aurora - September through November - Aurora is a 6.8% ABV red rye IPA loaded with Equinox, Centennial, Motueka, and Experimental Hop 07270. This pungent, complex IPA marries the spicy malt character of rye with the fruity dankness of new wave American & New Zealand hops. Aurora pours a gorgeous ruby red, making it the perfect IPA for Fall (if it ever comes to San Diego).
City of the Sun - December through February - City of the Sun is a big, fruity, pungent, sticky, delicious IPA. Mosaic & Motueka give it a very fruity hop character, with Simcoe providing enough of a piney backbone to prevent it from going off the deep end. The complex but unobtrusive malt character gives it a medium body and a platform for the saturated hop flavor.
For more you can read all about this over at the Modern Times website...below is a summary:
Seasonal cans are coming! My goal has always been for a rotating cadre of seasonals to occupy a 5th can slot for us, and now that plan is coming to fruition. Along with an ambitious 22oz release program and a slew of barrel-aged releases (both of which I will write about soon), in 2015 we will put all of the pieces of my original beer plan for Modern Times into place. That's super exciting.

So, the seasonals. All of these are beers we've brewed before, and Oneida & Aurora both hit 22oz bottles this year. With these four beers, the seasonal program essentially becomes our rotating IPA slot, making our line-up hoppier & more aggressive than it currently stands. All of these beers go heavy on new wave hops from the fruit-forward end of the spectrum, and that's the point. We want to profile some of the fascinating new stars of the hop world, and these beers do it, big time.

Oneida is loaded with Hallertau Blanc, Aurora brings the Equinox, Booming Rollers is all about Citra, and City of the Sun leans on Motueka/Mosaic. These hops are the result of hop breeders and growers taking bold steps into previously uncharted territory, and the results are spectacular. All of these beers will be super fragrant, completely saturated with hop flavor, and distinctively original.

Like our year round cans, the seasonals will all be in four packs of 16oz cans. They'll be widely available throughout our current distribution area, and they'll be available on draft as well. Should be a rad year!
Posted by Russ
Saturday, November 1st 2014
SanTan's Sex Panther is Back!
Chandler, AZ - Craft beer fanatics and lovers of all things smooth and chocolate know that Sex Panther brings the flavor while taming the beast within. Whether you're getting cozy with a box of chocolates or smoking up a pork roast, Sex Panther will have you purring like a kitten with its chocolaty flavor and smooth as silk drinkability.
This year, due to high public demand, SanTan Brewing Company is releasing Sex Panther two months ahead of schedule and with a brand new super funkalicious can design. Sex Panther will be available in Arizona, California and Texas on November 1, 2014.
"Sex Panther is a great fit for the winter season; our fans have been asking us to launch it early. With our production facility now running at a higher capacity we're able to crank out the cans a lot faster," said Anthony Canecchia, founder and brewmaster, SanTan Brewing Company.
Sex Panther is made with Colonial Rosewood Cocoa and a large dose of chocolate malt—there's no chance of missing the chocolaty flavors in this brew! With hints of truffles and molasses, summit hops are added to balance the sweetness. Then, white wheat is added to give Sex Panther a smooth, creamy head that lasts all night long. Sex Panther has a 6.9% ABV and a silky dark chocolate shine. This brew pairs perfectly with smoked meats and sweet treats.
Sex Panther Quick Facts
Style: Double Chocolate Porter
Malt: 2-Row, White Wheat, Caramel, Munich, Special Roast, Chocolate
Hops: Columbus
Yeast: House Yeast
OG: 15.7 Plato
ABV: 6.9 %
Color: Chocolate Brown
IBU: 20
Availability: November - January
To find a pint or can of Sex Panther near you, visit SanTan Brewing Company's Beer Finder online at www.santanbrewing.com/the-beer/beer-finder.
About SanTan Brewing Company
Open since 2007 under the leadership of founder and brewmaster, Anthony Canecchia, SanTan Brewing Company has established a strong reputation as one of Arizona's favorite craft breweries. In addition to brewing, SanTan features a friendly neighborhood brewpub in Downtown Chandler, which has quickly become one of the top local food and beer destinations in the Phoenix metro area.
All SanTan Brewing Company craft beers are Southwestern Style Ales. SanTan's brews are fermented to completion and carbonated higher than traditional American beers for a more effervescent, crisp and refreshing hand crafted beer – perfect for quenching your thirst in the hot Arizona sun and throughout the southwestern region of the US.
In 2009, SanTan Brewing began distributing their Southwestern Style Ales throughout the state of Arizona, operating with a mission to pair craft beer with craft food that would inspire great conversation and good times. 2014 marks the beginning of taking this journey throughout the Southwest and California.
SanTan beers have won numerous national and statewide awards including two medals at the US Open Beer Championship: bronze in 2013 and gold in 2011. SanTan Brewing also took home a silver medal at the 2011 Great American Beer Festival and won Best Brewery in Arizona, selected by the Phoenix New Times and the Arizona Republic, in 2013 and 2011.
Check out SanTan Brewing Company online at www.santanbrewing.com and become a fan on Facebook at www.facebook.com/SanTanBrewingCo or follow them at www.twitter.com/SanTanBrewing.
Posted by Russ
Saturday, October 11th 2014
Boulder's Sanitas Brewing Company to Release New IPA cans
BOULDER, COLORADO – With warm weather dwindling and the midst of Fall growing nearer, the brewers at Sanitas Brewing Company are preparing to release their third year-round beer, Sanitas IPA.
"Sanitas IPA is a result of exploration and coincidence," explained Sanitas' Chief of Brewing Operations Chris Coyne, "it took us nearly a year to brew our first American IPA. We made a couple over the summer in order to test some new hop varieties, and they were a hit. We merged the best attributes of those beers into what is now Sanitas IPA.
Deep gold in color, Sanitas Brewing Company's new India Pale Ale leans on a base of organic English and German malts. The aroma and flavor are dominated by overtones of exotic fruit and wet pine from a blend of rare American and Australian hops.
"We use some pretty cool hop varieties in this beer," said Coyne, "it's a carefully chosen blend from all over the world. The result is a very vibrant hop experience."
Cans of Sanitas IPA will hit Boulder and Denver area shelves in the coming days, as well as local taps soon after. It will join Sanitas Black IPA and Sanitas Saison as the brewery's third year-round beer.
About Sanitas Brewing Co.
Founded in 2013, Boulder's Sanitas Brewing Company is regarded for their signature blend of tradition and innovation as well as their use of only the finest ingredients. With a passion for exploration, Sanitas epitomizes the wild spirit of Colorado with a variety of premium beers.
Posted by Russ
Thursday, July 24th 2014
Real Ale Brewing Releases
18th Anniversary Gose Cans

GOSE is the newest canned offering from Real Ale Brewing Co.
BLANCO, TX – will be releasing its 18th Anniversary Gose state-wide in 12oz. cans this week. First served earlier this year at our annual anniversary celebration, this refreshing wheat beer was previously draft only.
"We originally collaborated with our friends at Odell Brewing Co. back in February to create the recipe, and we brewed 7 bbl at their place in Fort Collins, CO. As soon as we tasted it, we knew that it would be the perfect beer for our 18th Anniversary party and for the imminent Texas summer," says Brewmaster Erik Ogershok.
Gose is a rarely brewed regional specialty beer from Northern Germany. A slightly sour ale, it is known for its use of coriander and a unique saltiness that is derived from the local water source. Our take on the traditional German style has a distinctly Southwestern twist - a bright acidity from the addition of pureed limes. The resulting tartness makes for a delicious and thirst quenching summer brew. "After the response we had at the anniversary party, it would have been difficult not to offer this beer in cans for the summer," says Ogershok.
18th Anniversary Gose
Wheat beer with coriander and lime
4.34% ABV
About Real Ale Brewing Company:
Founded in Blanco, Texas in 1996 in the basement of an antiques store, Real Ale Brewing Company has grown into one of the largest craft breweries in the state of Texas. From their current facility in the Texas Hill Country, Real Ale's dedicated team of brewers produces a wide variety of exceptional ales & lagers using only the finest natural ingredients.
For more information about the brewery and beers please visit www.realalebrewing.com and follow on Facebook: www.facebook.com/RealAleBrewing and @realalebrewing on Twitter.
Posted by Russ
Friday, July 18th 2014
Ska Brewing to Release Cans
of Rudie Session IPA
Rudie Session IPA will be unveiled Saturday, August 2nd at Sesh Fest
in Denver and will be available in 12 oz. cans in all of Ska's markets
Ska is proud to announce the release of its first mainstay since the death of Ten Pin Porter (RIP). Rudie session IPA weighs in at only 4.5% Alcohol by volume but is hopped in the style an American IPA. "It's a beer you can drink for breakfast" says Dave Thibodeau, President and Co-Founder of Ska "We wanted to brew an aggressively hopped beer that you can drink a few of and still hold your shit together."
"We wanted to brew an aggressively hopped beer that you can drink a few of and still hold your shit together."
The beer was conceived through a long standing tradition of brewing a one-off specialty beer for the Durango Film Festival. "Every year we brew something different for the film fest." says Thomas Larsen, Head Brewer at Ska "It needs to be flavorful, approachable, and sessionable enough that folks aren't launching projectiles at the screen mid-film. The last few years we've been experimenting with low alcohol beers that retain the big flavor profile people expect of an IPA. We knew we were on to something." Rudie hits the shelves in early August and will be unveiled at the Colorado Brewers Guild's inaugural Sesh Fest on August 2nd at Sculpture Park in Denver.
Posted by Russ
Thursday, July 3rd 2014
Golden Road's Carry On Citrus Ale to be Airport Only Canned Release
L.A.'s Golden Road Brewing and global restaurateur HMSHost have teamed up to release the first craft beer made exclusively for airports, Carry On Citrus Ale. Inspired by the spirit of the American traveler, Carry On represents the growing demand for both craft beer and a better travel experience. The citrus-forward ale will be Golden Road's first brand available outside of its California-only distribution and will hit HMSHost venues in 16-oz cans at select airports by July 4.
"The craft beer industry embodies the American dream's pillars of innovation and opportunity," said Meg Gill, co-founder of Golden Road Brewing. "Through our presence at LAX, we've seen how travelers recognize and associate these ideals with our beer. Our partnership with industry leader HMSHost allows us to dig even deeper and connect this ethos on a national scale while fulfilling our mission to increase craft beer accessibility."
Those flying through major California cities, Phoenix and Las Vegas this Fourth of July will be the lucky first (of many) to taste the adventure-driven beer before a phased roll-out to more than 30 airports by the end of 2014. The first widely commercially available style of its kind, the Citrus Ale features hops from the Pacific Northwest and organic citrus from Southern California, a nod to Golden Road's roots. The resulting combination marries an approachable profile with bright flavors synonymous with L.A. for a full-flavored, journey-enhancing brew.
"Partnering with Golden Road Brewing to develop a craft beer for travelers has been a great adventure in itself," said HMSHost Senior Director of Adult Beverage & Restaurant Development Doug Draper. "Carry On Citrus Ale is sure to enhance the traveler's journey; with such a flavorful combination of ingredients, it's a great way to relax before boarding the plane."
HMSHost and Golden Road share a commitment to thoughtful partnerships that provide a unique experience for the consumer. Just as HMSHost has held strategic relationships with Anheuser-Busch InBev and the Boston Beer Company, enhancing the adult beverage experience for travelers all over the world, with innovations such as the use of appropriate glassware for various brews, and in consistently creating the perfect pour, so too does it continue to evolve trends in airport dining and drinking through brand cultivation and forward-thinking projects in culinary, adult beverage, customer service and technology.
Carry On Citrus Ale will be available in the following city's airports this July: Los Angeles, San Diego, San Francisco, Fresno, Oakland, Palm Springs, Sacramento, Santa Ana, Las Vegas and Phoenix. By the end of 2014, the beer will enter airports in Chicago, Denver, Minneapolis, Portland, Salt Lake City, Seattle, Boise, Spokane and nine major airports in Florida.
Carry On Citrus Ale will be available in the following city's airports this July: Los Angeles, San Diego, San Francisco, Fresno, Oakland, Palm Springs, Sacramento, Santa Ana, Las Vegas and Phoenix. By the end of 2014, the beer will enter airports in Chicago, Denver, Minneapolis, Portland, Salt Lake City, Seattle, Boise, Spokane and nine major airports in Florida.
Coming mid-summer, Golden Road will launch a social media sweepstakes for a chance to win a VIP experience and trip to the brewery in sunny Los Angeles. Official rules and details will be available at www.goldenroad.la/carryoncontest.
About Golden Road Brewing
In 2011, beer enthusiasts Meg Gill and Tony Yanow founded Golden Road Brewing to bring fresh beer to the local market in the most sustainable way possible. Brewed and canned in Los Angeles, Golden Road's year-round offerings include Point the Way IPA, Golden Road Hefeweizen, Get Up Offa That Brown, 329 Lager and Wolf Among Weeds IPA. Golden Road is committed to engaging and supporting the growing community of socially-minded beer enthusiasts in Los Angeles. For more information, please visit goldenroad.la.
About HMSHost
Global restaurateur HMSHost is a world leader in creating dining for travel venues. HMSHost operates in more than 100 airports around the globe, including the 20 busiest airports in North America. The Company has annual sales in excess of $2.7 billion and employs more than 30,000 sales associates worldwide. HMSHost is a part of Autogrill Group, the world's leading provider of food & beverage and retail services for people on the move. With sales of around €4 billion in 2013, the Group operates in 30 countries and employs some 56,000 people. It manages approximately 4,700 stores in over 1,000 locations worldwide. Visit www.HMSHost.com for more information.
Posted by Russ
Thursday, June 12th 2014
Ska Brewing Company Announces Estival Summer Stout in Cans
DURANGO, Colo., — Estival, the freshest release in Ska's Seasonal Stout Series hit the canning line today. The Cream Stout will be available Saturday, June 21 and is destined to be paired with barbeque, ice cream, and high country campouts.
"This is a medium-bodied stout brewed with orange blossom honey, milk sugar, and aged on orange peels," said Ska co-founder and Overlord of Brewing Operations Bill Graham. "It is a great match for summer evenings when you feel like something more substantial than a lager or pale ale, but still not too heavy."
Estival Cream Stout is 5.8% Alcohol By Volume (ABV), and, in keeping with the series' solstice and equinox release dates, will be tapped on the summer solstice, June 21. The release will double as a summer kick-off celebration and will be held at Ska World Headquarters in Bodo Park. The event will feature Estival specials, lawn games, unique food pairings from The Container and live music by Robby Overfield.
The packaging for the Estival Cream Stout features a black, 12-oz. can, with Ska's Pinstripe character emerging from a fiery citrus sun. As with all four of the stouts in the Seasonal Stout series, this campfire beer will be released in cans, and distributed in all of Ska's markets.
About Ska Brewing
Based in Durango, Colorado, Ska Brewing was founded in 1995 and produces over a dozen award-winning beers. Many of Ska's brews are widely available in cans including ESB Special Ale, True Blonde Ale, Modus Hoperandi IPA, and rotating seasonals. For more information, current offerings, music, and a good time, visit www.skabrewing.com. Check out the brewery's profiles at facebook.com/skabrew and twitter.com/skabrewing for beer releases and up to the minute happenings.
Posted by Russ
Sunday, February 9th 2014
Crooked Stave and Upslope to Release Wild Beer in Big Cans
(Boulder, CO) – The time has come for Denver-based Crooked Stave Artisan Beer Project and Boulder-based Upslope Brewing Company to unveil the first installment of Crooked Stave's Ferus Fluxus series – Wild Belgian Pale Ale. After nine months, the collaborative beer is ready for its highly anticipated release.
For this unique barrel-aged project, Upslope's Limited Release Belgian Style Pale Ale was inoculated with carefully chosen strains of Brettanomyces and Lactobacillus in first-use red wine barrels that were hand-picked at Rocky Mountain Barrel Company by Crooked Stave owner Chad Yakobson and Upslope head brewer Alex Violette.

Upslope's Belgian Style Pale Ale
The Wild Belgian Pale Ale that has been aging separately at both Upslope's North Boulder brewery at Lee Hill and Crooked Stave's Barrel Cellar for the last nine months will be available in two different package options. Crooked Stave's version will be packaged in its standard 375 milliliter bottle, while Upslope's version of Ferus Fluxus will be packaged in Ball Corporation's 19.2 ounce Royal Pint can.
Upslope's version of Ferus Fluxus will be packaged in Ball Corporation's 19.2 ounce Royal Pint can.
"This collaboration was a great opportunity to reunite with my friends at Upslope and make a unique beer," said Crooked Stave's Head of Sales and former Upslope employee Kyle Krebsbach. "I have always thought our yeast would pair well with Upslope's Belgian Style Pale Ale. Tasting the beer yesterday, I loved the crisp floral and citrus flavors followed with a nice tart and earthy finish."
"It's exciting to be a part of the first installment of what's sure to be an awesome series. With the completion of our production brewery, space was freed up at our original facility to expand our barrel-aging program and experiment with bacteria," said Upslope head brewer Alex Violette. "The opportunity to collaborate with our friends at Crooked Stave was one we couldn't pass up. We all agreed that our Belgian would be perfect for this project. It highlights the tropical fruit notes from the Brettanomyces while maintaining a subtle oak character from the barrels."
Fans looking to be the first to take a walk on the wild side can look forward to two release parties that celebrate this collaboration. On Monday, Feb. 17 at 6 p.m. Crooked Stave's taproom at The Source will release bottles for $10 with a four-bottle limit, a half hour later at 6:30 p.m. drafts will begin pouring. The following day (Tuesday, Feb.18) at 6 p.m. Upslope will host a release party at its Lee Hill tap room featuring $14 cans of the Wild Belgian Pale Ale (limit three) as well as additional barrel-aged styles and afood truck.
Note: Ferus Fluxus means "Wild Flow"
About Upslope Brewing Company
Boulder-based Upslope Brewing Company is the creator of premium, filtered ale that is artfully crafted to compliment the outdoor lifestyle. Upslope beer is made with natural ingredients, including snowmelt. The five flagship beers include: Pale Ale, Craft Lager, India Pale Ale, Brown Ale and Imperial IPA. Additional installments are offered in a Limited Release Series. Upslope's beer is packaged in aluminum cans because it is exceptionally portable, preserves the taste of the beer by keeping light out, and it uses fewer resources to pack and ship. In an ongoing effort to protect Colorado watershed, and the key ingredient in Upslope ale, one percent of Upslope's Craft Lager revenue benefits the Colorado Trout Unlimited. Learn more about Upslope at www.upslopebrewing.com
Crooked Stave Artisan Beer Project is the culmination of "Founder and Brettanomyces Guru" Chad Yakobson's open source Master's research, The Brettanomyces Project. Crooked Stave's progressive approach to brewing blends science and art through creativity and passion. The artistic creations, all of which use Brettanomyces yeast and mature in oak, result in beer of extraordinary complexity.
Posted by Russ
Thursday, January 9th 2014
Fort George Releasing Java the Hop
A Single-Origin Coffee IPA Collaboration with Coava Coffee Roaster
"I always know I like a beer when I think about it the hours or days after I last tried it. So it was with Java the Hop…" –Jeff Alworth – Beervana
Months ago at a Portland coffee shop near you, Fort George and Coava Coffee Roasters shook hands, shared pints, and joined forces on the latest Fort George 16-oz canned seasonal – Java the Hop. The focus was on simplicity: find the perfect coffee and hop to blend in an IPA.
Single bean – Ethiopian Kochere, locally roasted at Coava Coffee Roasters.
"Kochere is the name of a co-op located in the village of Chalalacktu. The people of Chalalacktu take great pride in their coffee and carefully reinvest the income they make from it into their community," explains Matt Brown, Director of Wholesale at Coava Coffee Roasters. "Sweet tea, bergamot, and jam keep us coming back to Kochere as the standard for what an Ethiopian natural process coffee can be."
Single hop – Amarillo from Virgil Gamache Farms.
This variety, grown only in Washington State, gives this IPA a citrusy flavor that pairs perfectly with the fruity notes of lightly roasted Kochere beans. Virgil Gamache Farms is a family owned business, currently in its third generation, and the exclusive producer of Amarillo hops.
Java the Hop is NOT a black, coffee beer. Whole-beans were added to the fermenters within 24 hours of roasting, capturing all of the aroma while leaving the beer a golden orange. Amarillos and coffee merged, hoppy with a subtle taste of chocolate (but not on the dark side). When you raise a pint of Java the Hop to the nose there is absolutely no doubt what you are getting – a coffee IPA.
Posted by Russ
Saturday, December 28th 2013
Surly Teaming Up With 3 Floyds and Real Ale Brewing for cans of BLAKKR Imperial Black Ale

CAN DESIGN FOR BLAKKR BY MICHAEL BERGLUND

Three breweries with a penchant for heavy metal are collaborating on what should be a (three-headed) beast of a Black IPA to come in an equally bad ass pint can. The brewing minds at Surly Brewing Company, Three Floyds Brewing Company, and Real Ale Brewing Company have come together to brew up BLAKKR, an Imperial Black IPA to be packaged in both 16 oz. cans by Surly and 22 oz. bottles by Three Floyds. Cans will be hitting Surly's distrubution area in mid-late February.

If you're a fan of these three breweries you can probably see why it makes sense that they'd come together. Surly's head brewer, Todd Haug, is himself a guitarist in the Minneapolis-based metal band Powermad. Surly has also released a string of beers featuring artwork that would look quite at home on a metal album cover...not to mention the cult following around their annual release of Darkness, it seems they've weaved an intricate web between craft beer and heavy metal.
Three Floyds has collaborated with a number of metal bands in the past for beers such as Permanent Funeral Pale Ale, Toxic Revolution Stout, and Warmullet Double IPA. The Indiana brewery also showcases metal bands at their annual Dark Lord Day.
Real Ale Brewing Company, located in Blanco, Texas, can also lay claim to having an affinity for metal. The brewery recently teamed up a local metal act, The Sword, for the release of Iron Swan Ale cans.

Both the can and bottle label design for BLAKKR were done by Michael Berglund, a graphic designer at mnfx in Minneapolis. Berglund was also responsible for the 2011 Surly Darkness label design.

For more on the "History of Heavy Metal and Craft Beer Collaborations" check out this piece over at First We Feast.
Posted by Russ
Thursday, December 12th 2013
Now You Can Ski & Drink Snow King!
SNAKE RIVER BREWING CRAFTS SNOW KING PALE ALE
COMMEMORATING SNOW KING MOUNTAIN'S 75th ANNIVERSARY
Jackson, WY – Snow King Mountain and Snake River Brewing Company in Jackson Hole, Wyoming announce the creation of Snow King Pale Ale to commemorate the 75th Anniversary of Snow King Mountain, Wyoming's first ski area. Snow King Pale Ale is an American/English hybrid inspired by hoppy U.S. pales and uses very classic English hops along with U.S. hops in generous quantity. The new beer is available in limited-edition cans at local liquor stores and will be on tap at Snow King Resort's new restaurant, Hayden's Post.
"Snow King Mountain called us this summer, asking whether we'd be interested in doing a special beer for the 75th Anniversary of Snow King Mountain," said Chris Erickson, Snake River Brewing Company's Director of Brewing Operations. "Not a week goes by when we don't get a similar request and our standard answer is no, because we are just a small brewery, after all. However, every Jackson Hole skier has a special spot in their heart for 'The King.' It's where we learned to ski, it's where we ski night-time powder under the lights and it's the whole town's uphill climbing gym. So, how perfect is it that this will become our first-ever custom can? There was just no way to say no to this one."
Snake River Brewing Head Brewer, Cory Buenning, was inspired to combinetwo of the UK's most classic hops, Challenger and Fuggle, with a U.S.-grown, High Alpha Magnum. Dry hopping brings out the delicate flavors and aromas. The result is a copper-colored, fully hop-flavored and moderately bitter beer for skiers. In addition to the beer, Snake River Brewing and Snow King Mountain will produce special pint glasses, t-shirts and other swag to commemorate the occasion.
Snow King Mountain plans to launch its 75th Anniversary festivities on Saturday, December 14 with a Free Ski Day & Party. After a day of free skiing on the Mountain, Snake River Brewing invites those who are 21 and older to the Lodge Room at Snow King Resort to taste test the new beer beginning at 3 p.m. The event will then move to Hayden's Post at 5 p.m., for the official tapping of the restaurant's inaugural keg of Snow King Pale Ale. A plethora of Snow King swag and raffle prizes will be awarded, including a season ski pass to Snow King Mountain.
In addition to the beer and Free Ski Day event, Snow King Mountain will host a 75th Anniversary Grand Celebration on February 8th, 2014, complete with a snow bike race, Randonee race, and free concert at the base area. For ongoing updates on all SK Mountain events and festivities visit: http://www.snowkingmountain.com/.
Snow King Mountain, Wyoming's first ski area began with a single cable tow in 1939 and established Jackson's reputation as a ski town. Seventy-five years later, the "Town Hill," one of the steepest little mountains around, remains a vital part of the community, cultivating generations of world-class skiers. From its founder, Neil Rafferty, to the latest faction of Jackson Olympians, "The King" represents the heart and soul of Jackson, Wyoming.
Posted by Russ
Tuesday, December 10th 2013
Narragansett to Release Cans
of Autocrat Coffee Milk Stout

Narragansett's Autocrat Coffee Milk Stout
Hitting Shelves Next Week!
PROVIDENCE, R.I. –Narragansett Beer announces today the release of its limited-edition Autocrat Coffee Milk Stout, a unique collaboration between two iconic Rhode Island companies. A custom blend of Narragansett's bittersweet milk stout with dark, delicious Autocrat Coffee makes for a delightful beer that is more Rhode Island than Roger Williams himself.
Since the 1890's, Narragansett Beer and Autocrat Coffee have been home-grown Rhode Island favorites. With more than 100 years of shared heritage, the two local legends joined forces to celebrate the art of craft brewing and bring New England an emblematic brew that pays homage to their history.
"I've been a big fan of Autocrat since my Little League days, so I'm especially excited to introduce this brew to the market," said Mark Hellendrung, president of Narragansett Beer. "My Little League coach worked at Autocrat and drove one of the big delivery trucks—we would try to aim homers toward the truck in hopes of hitting the big Autocrat swallow."
The full-bodied milk stout is enriched with the robust flavor of Autocrat Coffee to achieve an extraordinary taste experience. Brewed under the supervision of award-winning Brewmaster Sean Larkin, Narragansett's Autocrat Coffee Milk Stout delivers a flavorful, smooth, dark brew with notes of roasted barley, chocolate malt and rich crystal malt. The exacting touch of hops provides just the right amount of bitterness to balance the sweet notes of the malts and milk sugar.
"Having been on retailers' shelves for more than 100 years, Autocrat is proud to partner with another iconic brand to support Narragansett Beer in the development of Coffee Milk Stout," said Richard M. Field, Jr., Autocrat partner. "This is the perfect collaboration between two long standing Rhode Island traditions."
Narragansett's Autocrat Coffee Milk Stout, priced between $8.49 - $8.99 SRP, will be available the week of December 16 in six packs of 16-ounce tallboy cans throughout Rhode Island, Massachusetts and Connecticut. The beer is 5.3 percent Alcohol By Volume and 30 IBUs (International Bitterness Units).
For further information on the Narragansett's Autocrat Coffee Milk Stout or to find a retailer near you, visit www.narragansettbeer.com.
ABOUT NARRAGANSETT BEER:
Narragansett Beer…Brewed since 1890. 'Gansett is a straightforward, quality beer that has been a New England tradition for generations, producing a classic family of award-winning American lagers & ales. Today, 'Gansett is produced at top-rated breweries in Providence, R.I., Rochester, N.Y., and Buzzard's Bay, Mass. and is one of America's top 50 regional brewers and the fastest-growing in the Northeast. Narragansett is available for purchase in local restaurants, bars, and liquor stores throughout New England, New York, New Jersey, Eastern Pennsylvania, the District of Columbia, North Carolina, Florida, Wisconsin and Nashville, Tenn.
Thirsty for more? Visit: www.narragansettbeer.com.
ABOUT AUTOCRAT:
Headquartered in Lincoln, RI, Autocrat, LLC, is one of the nation's leading manufacturers of premium coffee and extracts, utilizing a multi-million dollar custom extraction system and a state-of-the-art pilot plant and research and development lab to meet increasing global demands. Certified as Level 2 SQF (Safe Quality Food), Autocrat offers regular and organic coffee extracts, as well as premium black and green tea extracts, that are used to flavor a variety of applications in the food and beverage industry. For more information call 1-800-288-6272 or visit Autocrat on-line at www.autocrat.com.
Posted by Russ
Sunday, December 1st 2013
West Sixth Brewing Releasing Cans of Christmas Ale - First Seasonal

West Sixth's Christmas Ale Hits Shelves December 2nd
(Lexington, KY) – West Sixth Brewing is releasing its first ever seasonal beer – The West Sixth Christmas Ale – in cans.
The beer, a dark spiced ale, will be released in limited quantities starting the week after Thanksgiving. It is being canned at the brewery on West Sixth Street in Lexington this week and then will be sold at its taproom beginning at 3pm on December 2nd, and then in several retail locations throughout Lexington and the rest of the state.
"We have a very limited amount of this special beer, so we expect it to sell quickly" said founder Brady Barlow.
The beer will be the first ever Christmas Ale brewed and distributed by a Kentucky Brewery. In addition, it will be the first ever seasonal product from West Sixth Brewing and first seasonal beer canned in Kentucky.
"The can is a great product for this beer because it will keep the beer fresher longer than a bottle will." said founder Ben Self. "That said, we design our beer to be enjoyed immediately, so we hope people will toast the holidays with this fun new beer".
Head Brewer and West Sixth Founder Robin Sither says:
"The West Sixth Christmas Ale is spiced ale with aroma of cinnamon and nutmeg with a sturdy malt backbone that will hold up to the chilliest of nights. It's a higher gravity beer weighing in at 9% ABV. This is our slightly darker take on a holiday beer – perfect for evenings by the fire."
The can label, designed by Lexington-based Cricket Press, is bright red with snowflakes, and includes several fun holiday tributes including a wrap around the top that says "Give our planet a Christmas present – please recycle me" and an indication that the beer was "brewed by elves".
Because of the limited quantities of the beer, West Sixth is using a specially designed can wrap to label the beer. One of the challenges of canning beers is that cans need to be ordered by the truckload – 200,000 at a time. Because West Sixth is only planning to can around 15000 cans of the Christmas ale – around 2500 6 packs – they had to come up with an alternative solution to produce this beer.
"We've produced this can by attaching a shrink wrap around a blank aluminum can. This wrap allows us to produce a limited number of cans in any design." said founder Joe Kuosman. "And the best part is that it is still recyclable!"
More info about the release, including details for December 2nd can be found at West Sixth Brewing's website westsixth.com
Posted by Russ
Monday, November 25th 2013
Half Acre Releasing Heyoka IPA

Half Acre's New Heyoka IPA is their First IPA
Canned for Regular Distribution

From http://halfacrebeer.com/blog...
In the years that we've been twisting out beers, we've never packaged an IPA for regular distribution. We've been neck deep in our sea of hoppy waters, but have only thrown out IPA's as special release relationships. We've taken on a program that has us sending out seasonal cans that hang around for some months. It gives us and you a chance to introduce yourself, whip up a firm handshake and live with each other for a clip. Akari Shogun was an initial partner in this scheme, but as the Shogun hibernates till spring, we introduce another brew.
Heyoka is a western charged firecracker. We conjured the classics in Chinook and Amarillo then laid them on a bed of pale malt. This India Pale Ale shoots straight to the bitter edge before falling into a mellow haze. Deep gold, 7% ABV and ready to travel into the distance. The Heyoka resides in the opposite and is said to use the wind as sticks to beat the drum of thunder.
You'll find this in draft and in cans around town. Use your courage.
Cheers,
Half Acre Beer Co.
Chicago, IL
Release Details
Release Date: Tuesday, November 26, 2013

7% ABV

4 pack of 16 ounce cans: $9.99

64 ounce growler refill: $14

32 ounce growler refill: $8

16 ounce draft: $5
Posted by Russ
Tuesday, October 8th 2013
Cigar City Brewing Introduces Caribbean Style IPA Brewed in Puerto Rico, Canned in Florida

Dry-Hopped on the High Seas is a "Caribbean-style IPA"
Yesterday's post over on the Cigar City Brewing blog got us pretty excited...
It seems that the good folks down in Tampa recently paid a visit to Cervezas del Sur, a large brewery located in Ponce, Puerto Rico, where they brewed a beer they've dubbed Dry-Hopped on the High Seas. The 7%, 60 IBU "Caribbean-style IPA" was brewed with loads of Simcoe hops and then dry-hopped with plenty more before being transferred to the shipping vessel for the journey home. Once back in Tampa the beer was packaged in cans and is now available for purchase at the brewery.
The result:
"everything we had hoped for and then some. Luscious tropical fruit aromas and flavors are the highlight followed by a clean bitter finish and a light complimentary malt profile. While we are pleased with our experiment, the ultimate arbiters of our success will, as always, be our customers."
Posted by Russ
Wednesday, August 28th 2013
New Jersey's Carton Brewing Co. Canning State's First Craft Beer
Carton Brewing's Boat Session Ale is NJ's first canned craft beer
Craft breweries canning their beer now dot the map of the United States from Alaska to Florida and Hawaii to Maine. Very few states are left which don't posess at least one craft brewery canning their beer. You can cross New Jersey off that short list* as Carton Brewing in Atlantic Highlands is canning their Boat Session Ale today.
Carton Brewing was started in 2011 by cousins Chris and Augie Carton and friend Jesse Ferguson. The brewery is located on the New Jersey shoreline and, until now, only produced kegged beer.
Stay tuned for more information...
You can learn more about Carton Brewing HERE
*Only North Dakota and West Virginia are left on the list and Fargo Brewing Company has plans to can in the coming months.
Posted by Russ
Wednesday, July 10th 2013
Wachusett Brewing's Larry Imperial IPA Coming to Cans in August

LARRY IMPERIAL IPA CANS TO HIT SHELVES IN EARLY AUGUST

Wachusett Brewing Company has announced the upcoming release of their Larry Imperial IPA in 12 oz. cans. This über-hoppy brew was originally released in 2010 as a one-off collaboration with Brookline (Boston) beer bar, The Publick House. It made it's debut on-tap and in 22 oz. bottles in what was to be a limited supply, but it wasn't long before its popularity made it a full-time feature brew.
In case you're wondering, the beer's name, "Larry", is a reference to Publick House employee Larry Melia, who "charmed the Wachusett staff during a visit to their brewery." Who doesn't want a big hoppy brew named after them!
Look for Larry in six-packs sometime during the first week of August. Fans of the beer will now be able to find the beer in a nice assortment of packaging options including both 12- and 22-oz. bottles, on-tap, and now in cans. Larry will be brewery's seventh canned release.
LARRY IMPERIAL IPA
(8.5% ABV - 85 IBUs)
HOPS - Amarillo, Chinook, Simcoe, Magnum, Centennial
MALTS - American Two Row, Crystal, Munich
Posted by Russ
Friday, June 28th 2013
New England Brewing Co. releasing first ever canned Berliner Weiss

Weiss Trash Culture is the first canned Berliner Weiss
Connecticut's New England Brewing Company will be releasing cans of their Weiss Trash Culture Berliner Weiss tomorrow at their brewery in Woodbridge. This will represent the first canned version of this low-alcohol German-style sour wheat beer. Cans are being sold in four-packs at $10 a piece, with a limit of three per person. Weiss Trash is 3.4% ABV with 6 IBUs. Talk about sessionable...time to stock up on woodruff syrup!
Posted by Russ
Monday, September 26th 2011
Sun King Releasing Cans of Grapefruit Jungle IPA this Friday

Grapefruit Jungle India Pale Ale
Having just released their Oktoberfest in cans for the first time, Sun King has announced yet another canned offering. If you're craving hops in this time of maltiness well prepare yourselves for this one as they're selling their uber-hoppy Grapefruit Jungle IPA in cans for the first time and exclusively at the brewery. Someone in Indie pleeeeaaaase hook us up!
DATE: September 26, 2011
(Indianapolis) – Sun King Brewing Co. will release its most popular India Pale Ale (IPA), Grapefruit Jungle, in cans this Friday.
With two pound of hops in each barrel Grapefruit Jungle is a hop lover's dream. It's named for the rich grapefruit characteristics of the three hops used to create it. GFJ cans will be available for sale exclusively in Sun King's Tasting Room.
WHO: Sun King Brewing Co.

WHAT: Grapefruit Jungle Can Release

WHEN: 11 a.m., Fri., Sept. 30

WHERE: Sun King Brewery, 135 N. College St., (317) 602-3702,

COST: $17.50 per four-pack
If you would like to speak with Sun King about Grapefruit Jungle, why they can their beer, or any other issues pertaining to Sun King, craft beer, or Indiana's growing brewing industry, please contact Neal Taflinger at (317) 602-3702 or taffy@sunkingbrewing.com.
Posted by Russ