Beers:
2172
Breweries:
553
Styles:
100
States:
51*
Latest beer added:
Mr. Pineapple
Brewed by:
SanTan Brewing Company
Check out the ONLY canned beer database on the web.
*That includes Washington,DC!
Thursday, May 5th 2016
Brewery Spotlight:
Q & A with Rhinegeist Brewery
Next month Cincinnati's Rhinegeist Brewery will celebrate their third anniversary. In their few short years they've grown in leaps and bounds and become a force in the Ohio craft beer scene. Housed in a former Christian Moerlein bottling factory in the Over-the-Rhine (OTR) neighborhood - a historically working class part of the city that was once home to a thriving German immigrant community - Rhinegeist provides a total craft beer experience that's hard to beat. From their absolutely incredible brewery, to their package design, to the quality of their beers...they've put together something special that hits all of the senses. We wanted to learn a little more about Rhinegeist so we threw some questions at Dan Klemmer, a member of the brewery's marketing department, and he graciously responded to them. Cheers Dan!

Photo: CraftCans.Com
(CC) Rhinegeist is not located in an industrial park like a lot of breweries, instead you guys have a pretty unique (and awesome) location. What can you tell us about that building and the space itself? Oh yeah, we also heard the roof deck is now open!
(DK) Our building and location are two of the most important things to us. The brewery is 120,000 square feet and was a brewery prior to prohibition—this place was made for beer. Our taproom, which is 25,000 square feet, is where we have all sorts of activities including corn hole, ping pong, wiffle ball on Mondays and Tuesdays and even yoga on Sundays. We've hosted everything from motorcycle shows to indoor movie screenings. In addition, we've got two private event spaces and a brand new rooftop deck with 24 taps and craft cocktails!

Photo: Rhinegeist
(CC) Who is responsible for the art/design for your cans? They're some of the sharpest looking vessels we've seen.
(DK)We appreciate it! Our initial logo design was aided by a design firm in Austin (Helms Workshop) but the torch has since been passed to our incredible design team lead by Jonathan Reynolds. Essentially everything we do is done in-house which is a huge pride point for us. We certainly smile while we sweat.

Photo: CraftCans.Com

Photo: Rhinegeist
(CC)What sort of look is Rhinegeist going for with their designs?
(DK) We strive to be bright, clean and bold—our approach is amplification through the simplification. We aim for our design aesthetic to be impactful and stand out but ultimately let the beer speak for itself!

Photo: Jerry Fatora
(CC) So, why cans? What was it that led to that decision and how has that worked out?
(DK) First and foremost, cans keep the beer better (no light, no oxygen) so that's a no-brainer as we hold quality and consistency above everything. They are also the sleek malt missiles that we feel best reflect our clean and bold mentality. We think the can takeover will continue and don't see that stopping anytime soon!
Photo: Rhinegeist
(CC) What is the overall direction that Rhinegeist is headed? Larger distribution? More capacity?
(DK) It's tough to tell what the future has in store other than trying to grow at the pace that makes the most sense. We've got more space in the brewery for tanks and we want to ensure that thirsty people are getting access to our suds, but we'll never do it at the rate the sacrifices what's most important to us.

Photo: CraftCans.Com
(CC) Having visited Cincinnati for the first time recently, I was blown away by the beer scene and how much the city seems to be changing. Can you speak to that a bit? Where do you envision Cincy in 5-10 years and how will Rhinegeist be a part of that?
(DK) It's been nuts, totally insane. There are now upwards of 18 breweries in the area—it's awesome! The city is getting more and more aboard the craft scene but there's still so much on the horizon. Drinking good and local beer will be a Cincinnati foothold for years to come and we believe the Queen City has the potential to be in the same boat as Denver and Portland in the future. For us, we hope to always be pushing the needle on what's new all the while staying true to consistency and quality, can't stress that enough.

Photo: CraftCans.Com

Photo: Jerry Fatora
(CC) Which Rhinegeist beers do you think the brewery is most proud of?
(DK) I think there are a bunch of beers that come to mind. Truth, our flagship IPA, is certainly the backbone of the brewery but I'd say Fiction, our Belgian XPA, is something that no one is really doing. Another brewery favorite is Pure Fury, our hoppy pale ale, that was the creation of our souring and barrel aging brewer. Both Fiction and Pure Fury are delicious beers that have killer cans and great stories. To round things off, Ink aged in Sherry Barrels, which won a Silver Medal at GABF certainly embodies the diligence and fervor we've been cultivating.

Photo: CraftCans.Com
(CC) What's the best part about the craft beer scene in Cincy?
(DK) It's the community of it. People around the city have embraced the craft movement and the breweries are pushing the envelope to brew the best beer possible. We collaborate, we celebrate, we challenge each other and we believe the craft beer scene is putting Cincinnati on the national map like it's never been before.
(CC) Thanks Dan! To anyone looking for a craft beer road trip, look no further than Cincinnati and definitely check out Rhinegeist when you're in town. Cheers!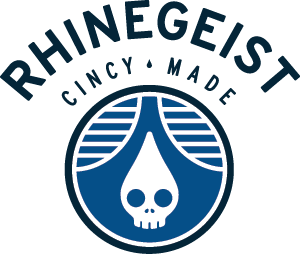 Posted by Russ